mr sanchos or paradise beach
Mr Sanchos Or Paradise Beach In Cozumel?
You've got a free day in Cozumel, Mexico (woohoo!). Why not choose between two of the most popular beach clubs: Mr Sanchos and Paradise Beach?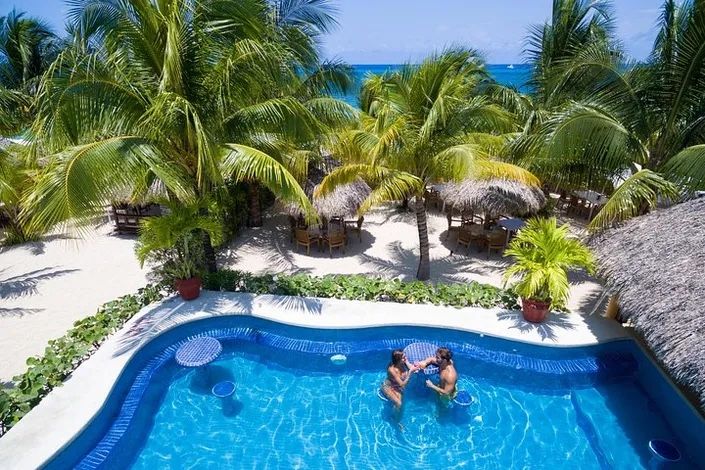 You've got a free day in Cozumel, Mexico and multiple ways in which you can spend it. It's a hard life. We get it. But if you've narrowed it down to a day in utopia (because, why on Earth wouldn't you?), the choice can still be overwhelming.
That's why we've decided to review two of the most popular beach clubs in Cozumel: Mr Sanchos and Paradise Beach.
What is Mr Sanchos in Cozumel?
Only one of the premier all-inclusive day resorts in this part of the world! Set along what is, arguably, the most beautiful stretch of beach in Cozumel, it offers all you really need for a trip to paradise.
Two pools, three bars, countless restaurants, endless water sports, an incredible aqua park, a drop-dead spa, the only beach horseback riding in the whole of Cozumel … we could go on and on (but won't, don't worry!). But you can probably see how it's earned the title as one of the most famous beach clubs in Mexico, right?
A quick note about the aquatic park, which isn't included in the all-inclusive package, meaning you can spend the day here as a standalone activity in itself. It includes a large climbing iceberg, climbing rock and four trampolines - along with a range of water activity features. Vitally, while the kids run, jump and splash around, you can sip on a cocktail (or three) at one of the swim up bars. And, yes, it really is as relaxing as it sounds.
Book the aquatic park at Mr Sancho's Beach Club
So, how does Paradise Beach compare? Nestled among a leafy jungle of well-manicured gardens and coconut palms, this high-end resort along a pristine shoreline offers the largest heated pool on the island and one of the most impressive collections of water activities and ocean inflatables, which you can float on while you sample some of the delicious food and drinks from the menu. Like all the beach clubs here, however, be prepared for crowds!
How much is Mr Sanchos in Cozumel?
Ok, so it all sounds great, but just what are we talking about in terms of cost? You might be pleasantly surprised; an all-inclusive day pass, which includes all you can eat (and drink!) as well as unlimited use of the pool and beach section reserved exclusively for guests, is just $60 per adult, $40 per teenager and $35 for a child, while under 3s go free. Use of the aquatic park at Mr Sancho's Beach Club is just $12.
Paradise Beach, on the other hand, seems to come in cheaper at first glance - but only at first glance. That's because while there is a basic $3 entrance fee, this comes with a $10 requirement per person on food/drinks and only includes the use of the pool, beach chairs and shower facilities.
For an extra $18, you get the Fun Pass, which gives access to the water park, kayaks and snorkeling, while their all-inclusive option, coming in at $64 per person, includes all of the above plus unlimited food and drinks.
Does Mr Sanchos have Wi-fi?
Both Mr Sanchos and Paradise Beach both have Wi-fi, meaning you can post your Insta snaps, stories and reels all day long - phew!
How far is Mr Sanchos from Carnival Port?
If you're coming as part of a cruise, you'll be pleased to know both resorts are roughly 6.5-7 miles from Carnival Port - just a short taxi ride away.
In conclusion, you'll have a great day at either, but, for us, the incredible Aquatic Park at Mr Sancho's Beach Club just about swings it! See you there?