elephant rock saudi arabia
Take Me To: Elephant Rock
Make like Nelly and pack your trunk - we're off to explore not one but three natural elephant rock formations!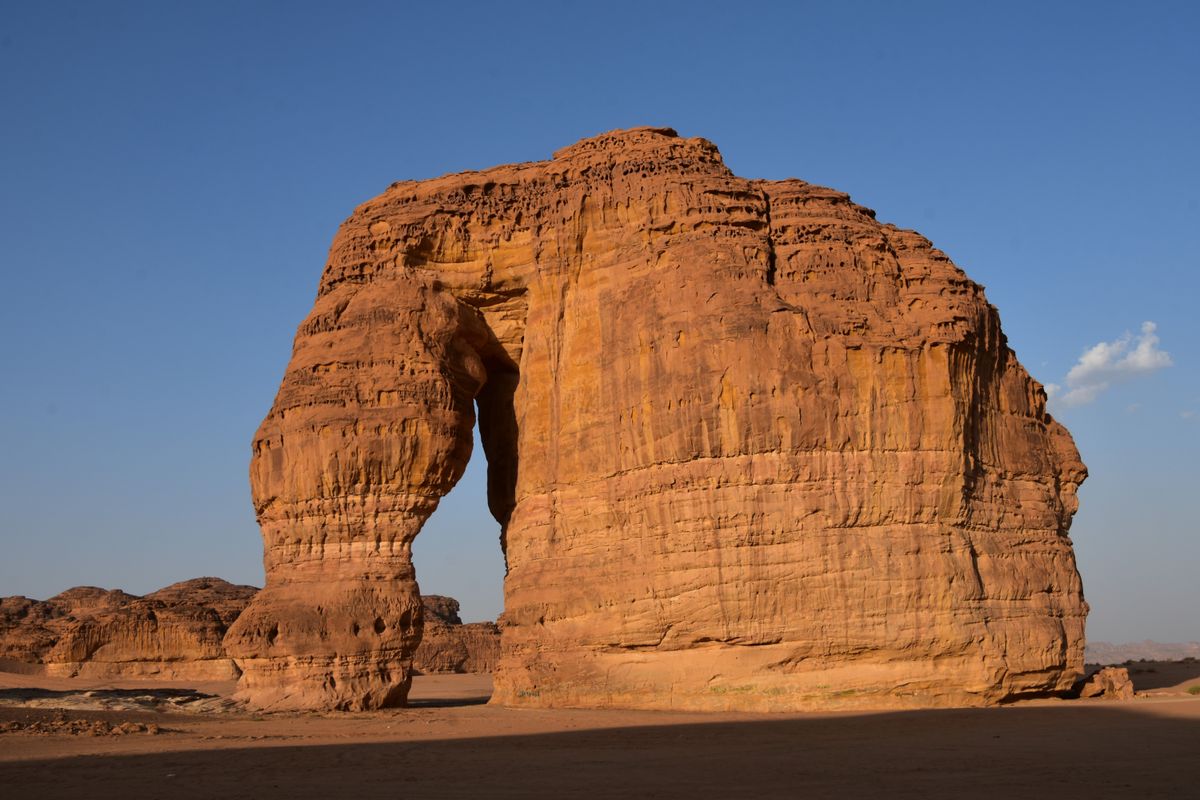 Whether you're thinking about an African safari or the incredibly epic Sing Film series (thank you, Reese Witherspoon), the rockstar potential of elephants cannot be overstated. And yes, while getting up-close and personal with the real deal is unbeatable, there are places in the world that can give you a slice of their majesty - if only inanimately. So, make like Nelly and pack your trunk - we're off to explore not one but three natural elephant rock formations!
Elephant Rocks, Missouri
Glance, and you'll think you've stumbled into a circus in the heart of southeast Missouri. Instead, you're looking at giant, 1.5-billion-year-old elephant-shaped granite boulders (formed by hot magma which cooled into red granite before being weathered into shape by natural forces) comprising - along with other fascinating geological formations - the Elephant Rocks State Park.
While the kids go rock climbing over the red circus elephants - topped by the 690-ton patriarch 'Dumbo' - you should read the names and comments carved into the granite by the 19th-century miners who worked in the area.
You can find out more about this on the self-guided Braille tour here, too (the state's first for visitors with visual handicaps!), which passes the quarry lake from which miners would quarry red granite from the 1860s to early 1900s. Known as 'Missouri Red,' it can be seen commercially all over the state and beyond - even reaching as far as Massachusetts and California!
Take some lunch and grab a picnic table among the trees as you soak up the sights in this free-to-visit park. The best time to visit is during the week as it can get swamped over the weekend!
Elephant Rock, Iceland
This natural rock formation is located on the remote Westman Islands archipelago - a cluster of 15 islands around 30 reefs that owe their existence to undersea volcanic activity. The result? A host of incredible natural landscapes, herded by the Elephant Rock, most likely resulted from the Eldfell volcanic disaster in 1973.
You've got to see it to believe it, this one; an incredibly uncanny structure that resembles an elephant - half submerged in water - as if trying to quench its thirst with the Atlantic Ocean. Being made entirely from basalt, its 'skin' even looks as if it's grey and wrinkled (like we said, uncanny!). It's all the more fascinating because there's no known record of an actual elephant ever stepping foot in Iceland!
Another reason to add the Westman Islands to your bucket list is the incredible whale watching opportunities (they released the whale from Free Willy here!) and birdlife (it's home to the largest population of puffins - around half the world's population!).
You can reach the islands by plane or ferry.
Elephant Rock, Saudi Arabia
Last but by no means least, journey to the golden desert sands of Saudi Arabia and marvel at the awe-inspiring natural wonder that is the famous Elephant Rock (known as Jabal Al-Fil to the locals), reaching three stories high into the sky at a height of 52 meters.
One of Al Ula's many geographical marvels - and the highlight of the natural museum - this beautiful red sandstone creature has been shaped by millions of years of wind and water erosion.
Saudi Arabia has been working hard to compete with worldwide tourism in recent years, meaning this has become quite significant as one of the most popular rocks globally.
Visit at night for more comfortable temperatures and unparalleled views - enhanced by the warm lights installed at the site. Or, come equipped with lots of water during the day and embark on the almost 4km trekking trail near the structure, which should take 1.5-2 hours to complete, for a spot of outdoor recreation.
One for history buffs, nature lovers, Insta-enthusiasts and geologists alike, this is best experienced as part of a full-day tour to Al Ula.
Visit Elephant Rock Saudi Arabia

It's ele-phantastic!