mountain in the world
The 25 Top Mountains In The World
It's mountain time! Get ready to celebrate some of the most impressive peaks in the world --->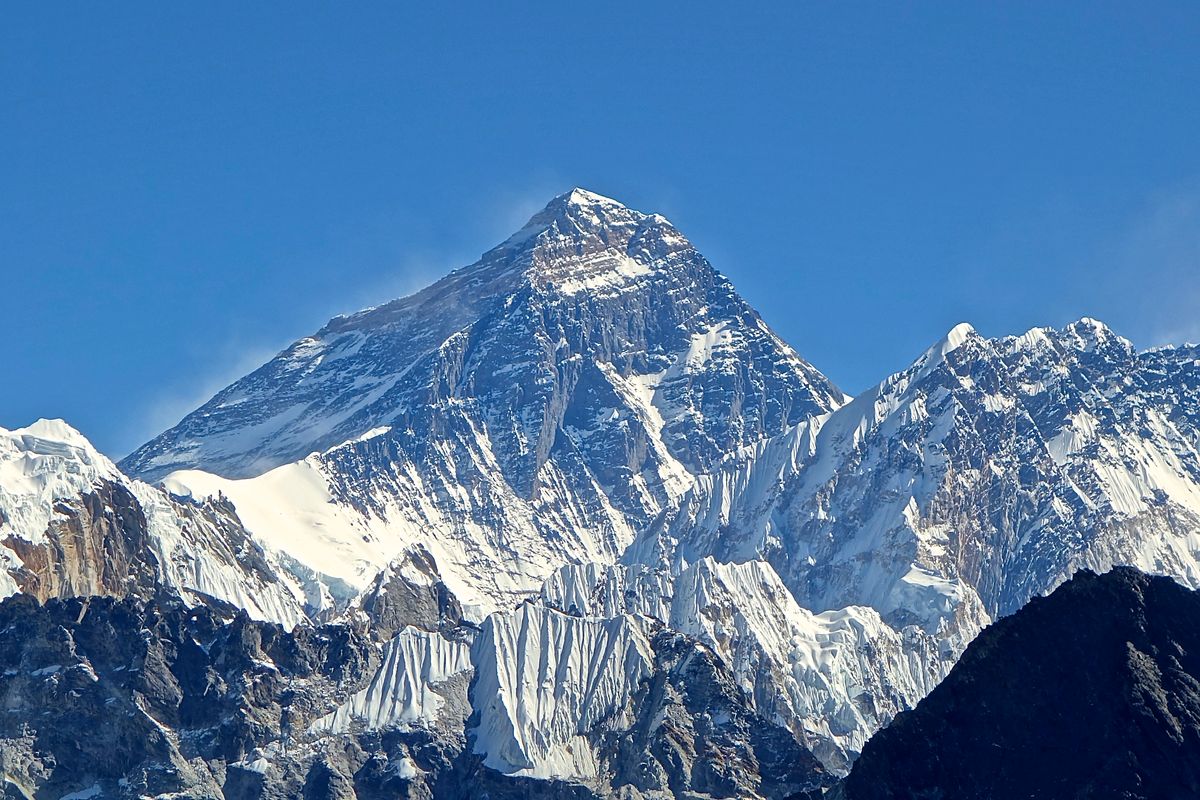 It's mountain time! Get ready to celebrate some of the most impressive peaks in the world:
Mount Everest, Nepal/Tibet
We have to, of course, start with the highest peaks in the world, standing tall at 8,848m (and still growing!) and first climbed in 1953. Its Tibetan name, Chomolungma, meaning "Mother Goddess of the World," should really tell you all you need to know!
The Himalayan henchman is so popular that there are concerns about overcrowding - especially amid reports that this is contributing to the rise in deaths. Yet when you see the magnificent structure for yourself, you can't help but understand why it continues to draw so many.
Despite being the world's highest mountain - and attracting climbers of all levels - it remains one of the easier ones to scale, making it quite accessible. Having said that, there are inherent dangers associated with climbing Everest, such as altitude sickness and strong winds, so you should never attempt to go alone.
As well as completing the hiking trail from Everest Base Camp to the summit, many also choose to trek Everest Base Camp.
Imagine Nepal on an Everest Expedition
2. Makalu, Nepal/Tibet
The first ascent to the top of Makalu in 1955 was most notable for including a team of ten, as, in those days, it was usually just one or two who reached the summit
Makalu is known for its pyramid faces and steep, weather-facing ridges, making it one of the most challenging to climb. Only five of the first 16 attempts were successful, and around 500 have since been successful.
The Makalu-Barun valley lies beneath in the gorgeous Makalu National Park, featuring lush forests and impressive waterfalls.
3. Mount Kailash, Tibet
Considered sacred for five religions, Hindus regard this as the abode of Lord Shiva. This explains why thousands make the pilgrimage each year - and why it is off-limits for climbers.
Many believe that walking around it will bring good fortune.
4. Kangchenjunga, Nepal/India
The highest - most sacred - peak in India, this carried the title of the world's highest until 1952. The five peaks that comprise it - literally meaning "The Five Treasures of Snows" - make this difficult to ascend, which is why it is usually limited to only 20-25 climbers a year (although 2019 hit a record with 34!).
The region has many species of flowers, birds, and endangered animals, including snow leopards and red pandas.
5. Dhaulagiri, Nepal
The stunningly beautiful "Dazzling White Beautiful Mountain" is divided by the deepest gorge in the world, the Kali Gandaki River Gorge.
This snow-capped wonder, composed of limestone and dolomite rock formations, is the largest located entirely within the country and has seen over 550 successful ascents since 1960.
6. Manaslu, Nepal
Meaning "Mountain of the Spirit," its first scale in 1956 by a Japanese team was controversial as people believed that previous attempts had angered the Gods and caused fatal avalanches that destroyed a monastery. It took a good 15 years before another ascent was allowed - this time by an all-female team!
It's been nicknamed the "killer mountain" because one in ten climbers have died while attempting to climb it.
7. Annapurna I, Nepal
This world-famous mountain, named for the Hindu goddess of food and nourishment, is very dangerous, with a 40% fatality rate.
The Annapurna Sanctuary - a high glacial basin filled with various ecosystems and hidden natural gems - is another popular option.
Read more: The Best Travel Destinations For 2022: Nepal
8. K2, Pakistan/China
The second-highest mountain in the world - part of the Karakoram Range - is nicknamed the "Savage Mountain," and for good reason. Considered one of the hardest to climb in the world - enhanced by the treacherous weather associated with it and its steepness - it has the second-highest fatality rate per summit - behind Annapurna I. To put this in context, for every four people who have reached the highest point, one has died trying (gulp.).
9. Gasherbrum, Pakistan/China
Containing several glaciers, Gasherbrum I was first climbed in 1958 by an American expedition - the only eight-thousander to be summitted by Americans first (go us!). Known for particularly harsh climates and being the site of some historical fights between Pakistan and China, it's a brutal choice.
Thank goodness, then, for Gasherbrum II - the second-tallest peak in the range with the second-lowest fatality rate of the world's eight-thousanders - that attracts skiers, snowboarders and parachuters.
10. Broad Peak I, Pakistan/China
Since its first summit in 1957, 404 people have successfully climbed Broad Peak. It is known for being a difficult but non-technical ascent.
11. Nanga Parbat, Pakistan
Having shed its moniker as "Killer Mountain" in the second half of the twentieth century, the dramatic peak remains a complex - and dangerous - climb, with a death rate of six times that of Everest.
The fastest-rising mountain on Earth, it continues to attract geologists.
12. Mount Huang, China
A frequent subject of traditional Chinese paintings, literature and modern photography, this is one of the most beautiful mountains in the world, thanks to its unique granite peaks amid the most spectacular scenery and sunsets.
13. Table Mountain, South Africa
Named for its flat top, this offers breathtaking views of Cape Town. It can be reached either by climbing or taking a cable car.
14. Banff Mountains, Canada
A bit of a cheat here, but the party of peaks making up Banff National Park in Canada's oldest national park is seriously sensational. The landscape is varied due to different rock compositions, offering beautiful views from all around.
Book your Glacier Adventure Banff!
15. Grouse Mountain, Canada
Experience the beauty of Grouse Mountain & Capilano Suspension Bridge Park, providing a much-needed detox from the hustle and bustle of city life.
16. Monte Fitz Roy, Argentina/Chile
Despite its average height, Monte Fitz Roy has a difficult-to-climb reputation due to its sheer granite faces and severe weather conditions. Thanks to its otherworldly shape, it continues to attract tourists and photographers.
17. Aoraki Mount Cook, New Zealand
New Zealand's tallest mountain, called "Cloud Piercer," is located in a national park with 27 other peaks.
18. Mount Kinabalu, Borneo
The highest mountain in Borneo is known worldwide for its breathtaking botanical and biological biodiversity. What's more, it's an easy climb for anyone in good physical condition and doesn't require special equipment - hooray!
19. Chimborazo, Ecuador
The closest mountain to the moon (which is pretty cool), this inactive double volcanic mountain is dubbed the "Ice throne of God."
It is considered a fast climb - taking an average of seven hours to reach the top - but don't expect it to be a breeze!
Take a swing at the end of the world, Ecuador
20. Cotopaxi, Peru
The majestic Cotopaxi National Park is home to an active volcano that has erupted more than 50 times since 1738.
Translated as "neck moon," the locals always considered it the "rain sender" and, therefore, sacred.
21. Palcoyo Mountain, Peru
One of the Rainbow Mountains in Peru, your Palcoyo Mountain tour will be uniquely enhanced by walking with alpacas (yes, really!)!
22. Mount Kilimanjaro, Tanzania
This dormant volcano is hugely popular with adrenaline-seekers, thanks to its being easier to access and climb than some of its competitors. Be aware, though, that many people get altitude sickness due to its height, so only about 50% reach the top.
It's unique for two reasons: Firstly, it is located on the equator, and secondly, it is the tallest free-standing mountain in the world.
23. Whitehail Mountain, Pennsylvania
Because what sort of travel site would we be if we didn't have a skiing option? Travel in style with an experienced tour guide and enjoy one of the most unforgettable experiences of your life on Whitehail Mountain.
24. Rocky Mountain, Colorado
Offering spectacular views, short hikes, wildlife spotting, and places to relax.
Book your Denver Rocky Mountains Tour here
25. Anamuya Mountains, Dominican Republic
Zipline through the Anamuya Mountains, swim in the River Anamuya and head to the ranch for a cross-country buggy ride - it's all in a day's work in the heart of Punta Cana.
And for evening entertainment? Party the night away at Coco Bongo Punta Cana!
Ain't no mountain high enough to keep us from delivering the best travel-related content to you!
Read more: