phi phi island
Which Thailand Island To Visit?
Sun, sea and sand … we humans have simple tastes, but sometimes, the choice is too overwhelming! Take Thailand: With 1430 islands to choose from, where do you start? As ever, with this must-read guide!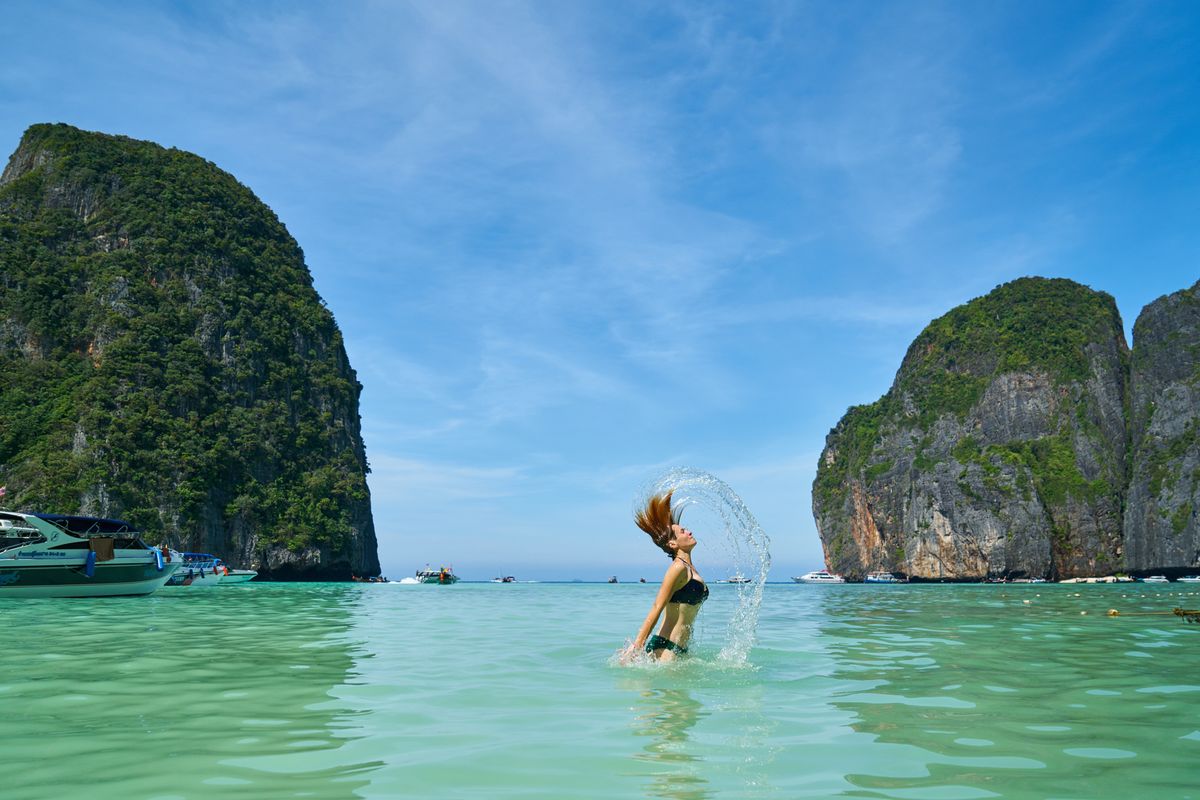 Sun, sea and sand … we humans have simple tastes, but sometimes, the choice is just so overwhelming it can be difficult to know where to go. Take Thailand: You might think that booking a once-in-a-lifetime getaway here would be easy (and you would, of course, be right - especially if booking with us!), yet with a whopping 1430 islands to choose from, where do you start? As ever, with this must-read guide!
For a short stay, choose Koh Si Chang or Koh Samet
Koh Si Chang. If you're planning to hop over from Bangkok for a couple of days, this is definitely your best bet. Just two hours by boat, it's the perfect escape from the hustle and bustle of the city, filled with beautifully clear water that you can snorkel in, a rocky coastline that you can kayak along and the most delicious seafood.
Koh Samet. Another good choice for a short stay, thanks to its close proximity to Bangkok, is Koh Samet - protected by its national park status and refreshingly low-key, punctuated by beach bungalows. Enveloped by coral reef and diverse marine life, snorkeling, jet skiing and parasailing is also popular here, and you can let your hair down at night with a varied selection of pubs, bars and evening fire shows on the powdery white sand, coconut palm-lined beaches.
For a bit of everything, choose Koh Lanta
Perfect for those can't make up your mind moments, Koh Lanta has it all: Deserted-but-spectacular coral-fringed beaches, lush rainforests and serene waters by day; vibrant beach bars by night! Motorized watersports aren't allowed here, which obviously adds to the peaceful vibe, but you can certainly while away the days kayaking through a mangrove forest, snorkeling in the marine-protected water or heading out on a Jungle Safari - in between a bit of sunbathing and relaxing massages, obviously! Jump on a moped and explore this tranquil gem.
For the best view of the stars, choose Ko Racha Yai
If you're into stargazing (and even if you're not), you'll be spellbound by the spectacular night show on offer, courtesy of the pitch-dark sky. Of course, this talcum powder sand beach is a popular spot by day, too, for obvious reasons!
For a bit of peace and quiet, choose the Koh Yao Islands
These twin islands - a swathe of intense blue, gold and green - are home to sleepy fishing villages and a 7-11 which serves as the only shopping mall, but then, this is the whole allure of the place. The locals like to preserve the tranquility of this award-winning eco-friendly island, so there are no banking facilities and alcohol is only permitted in restaurants or resorts (we said a bit of peace and quiet, but really this is more like pressing pause on all modern life and it's simply wonderful.).
Rent a bike to explore the quaint villages, breaking up the day sipping an iced tea and devouring the freshly-caught seafood options served in the rustic restaurants while gazing at the mangroves and limestone rock formations.
There are, of course, unspoiled deserted beaches here, too, which you're more likely to share with a water buffalo than another living person, but snorkeling, rock climbing and kayaking are all on offer (for you, not the water buffalo). A refreshingly idyllic escape with spectacular views, it's the perfect place for some quiet downtime - whether you've spent some time partying elsewhere or not.
For the best scuba diving spot, choose Koh Tao
While many of the islands here lend themselves to scuba diving, you can't beat Koh Tao (Turtle Island - named for its shape but also home to the green reptiles) if you're really serious about it. It's not just the best place to learn in Thailand - it's up there as one of the best places in the world - not to mention one of the cheapest!
Scuba diving aside, there's plenty else to keep you hooked by the irresistible charm of the island, between the crystal clear waters, colorful aquatic creatures, rough exploratory trails and pumping nightlife. It's because of this that Koh Tao no longer only attracts scuba divers but anyone looking for an epic island getaway.
For the chance to island-hop, choose the Similan Islands
A beautiful chain of 11 islands boasting beauty both above and below its turquoise waters, you can swim through the coral reefs of them all but only actually walk on the white-sandy beaches of two, so get booking early as accommodation here fills up fast! Some must-see bucket list faves include scuba diving, snorkeling and spotting whale sharks amid the turquoise waters and granite boulders.
For the ultimate luxury experience, choose Koh Samui or Phuket
Koh Samui. The once backpacker-happy spot has both grown and smartened up. Offering some of the most luxurious beach resorts in the world, it's the ultimate in decadence for honeymooners, families or first-time travelers to South-East Asia.
A tried-and-tested formula, Koh Samui - with its picture-perfect beaches, shiny shopping malls and high-end nightlife - is a magnet for those who like the finer things in life (don't we all?). Offering endless day trips, an unparalleled smorgasbord of yoga and spa activities and enough peaceful spots among the vibrancy to please all, it's no wonder that the second largest island in Thailand is such a tourist hot spot.
Phuket. Thailand's most prosperous - and largest - island offers every high-end amenity you can think of. From world-class restaurants to six-star resorts; designer boutiques to private butlers, if you've got the cash to splash, Phuket is for you.
Of course - being Thailand - there's plenty here for you to enjoy without spending a dime. Calming oceans nestled in between silky soft white sand beaches that are framed by palm trees, you can certainly spend some time indulging in the natural beauty around you, too, before heading back to your swanky cliffside resort, martini in hand.
You'll need some downtime as the evening scene here is huge, boasting celebrity restaurants, deluxe night clubs and spectacular shows to rival many a capital city.
For a non-stop party, choose Koh Pha Ngan
If the sound of a three-day beach party gets your juices flowing, you should probably start packing your bag for Koh Pha Ngan. Famous for its Full Moon parties, hardcore partygoers are invited to drink, dance and canoodle by the light of the moon (and the fluorescent lights and fire dancers!). The island that never sleeps, even when there's no full moon, there are still Half Moon and Black Moon parties to get you through, so it doesn't really matter when you go (although if you can coincide your visit with the full moon, this is recommended).
Sleep off the hangover in the shade of a palm tree (secluded beaches do exist here, too) before being awakened by a Thai masseuse. And once you've got the partying out of your system? There are plenty of eye-catching snorkeling spots, scenic hiking trails, lush jungles and waterfalls to fall in love with.
For a singles' holiday, choose Koh Phi Phi
Let the good times roll in tropical Thailand, courtesy of Phi Phi Island (unless you're Leonardo DiCaprio in The Beach, which was filmed here! #funfact). From sunbathing to snorkeling in the crystal clear waters, jumping off jagged limestone rock cliffs to a relaxing boat trip, there's something (and maybe even someone, ai ai) for everyone - especially if you're young, free and single! We can't really do it justice with words, but think lush green jungles, sapphire shores and golden sand. It can be hard to see the seductive beauty through the throng of tourists, but there are several ways to step back and appreciate this exotic gem - a catamaran cruise just one example!
Nights are filled with epic beach bars, spectacular fire juggling shows and dancing with new friends. You might arrive at this staggeringly beautiful series of islands single, but there's a strong possibility you won't leave that way. (#TinderWho?)
For snorkeling, choose the Surin Islands
What the Surin Islands lack in infrastructure (most of the accommodation is in tents and there's a distinct lack of commerce) it certainly makes up for in remarkably shallow and incredibly diverse reefs. Dazzlingly transparent turquoise waters lend themselves so incredibly to getting up-close-and-personal with the marine life here, you may never want to leave.
Go snorkeling in the Surin Islands
For adventure, choose Ang Thong
A group of over 40 (!) islands known for their white sandy beaches, endless waterfalls, hidden coves, underwater caves, freshwater lakes and coral reefs, enveloped by limestone cliffs and tropical forest, Ang Thong is a nature lover's dream. Wildlife is abundant, with everything from otters to turtles, iguanas to colorful fish.
Discover Ang Thong by speedboat
For endless beaches, choose Koh Kradan
Beach lovers, unite! This gem is literally made up of beach resort after beach resort - there's not even a village or proper road in sight! This is the place to laze in a hammock under a shading palm tree and soak up the lush foliage, crystal-clear water and white-sand beaches.
We've done the hard work for you. All that's left to do is choose where to go!