top destinations
Wonder of the World – Yellowstone National Park
Geysers, hot springs, mud pots, and fumarole – yes, Yellowstone might sound like a high-end beauty resort but it is so much more than that.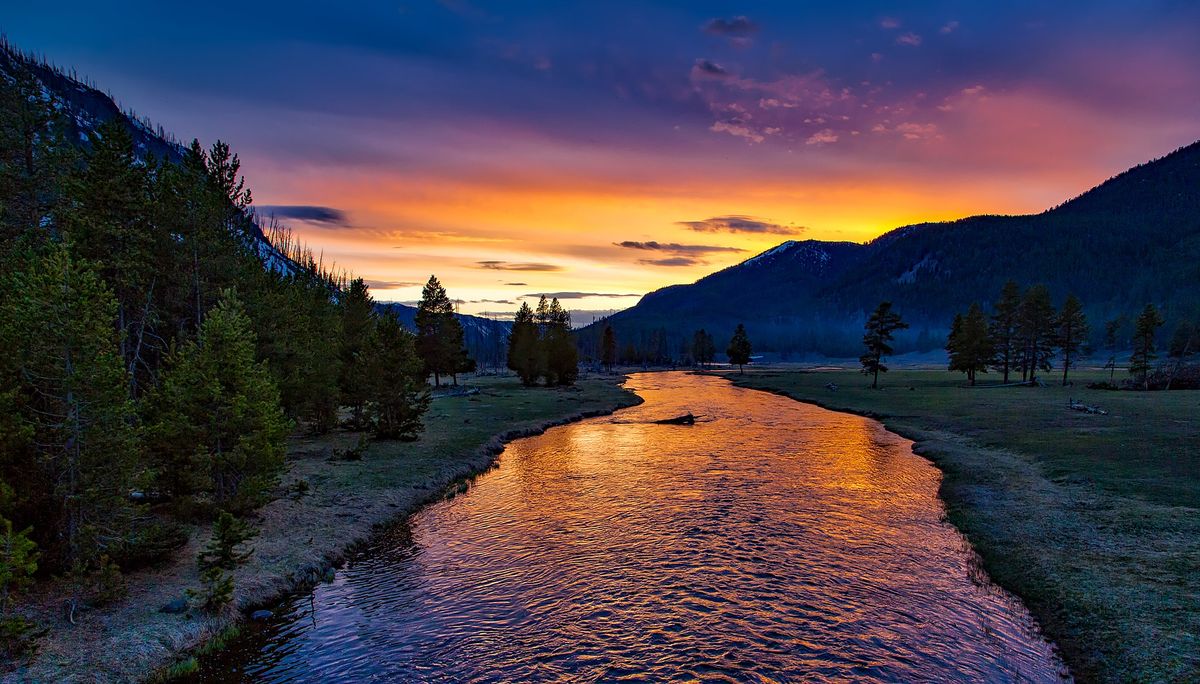 The home of adventure, history, natural beauty and the perfect place to let your inner cowboy out

Geysers, hot springs, mud pots and fumarole – yes, Yellowstone might sound like a high end beauty resort but it is so much more than that. Lose yourself in nearly 9000 square kilometres (not literally, our insurance company couldn't handle that). With wild animals in their natural habitat, rafting and camping Yellowstone National Park lets you live the old American life. If you ever dreamt of cowboys and cowgirls this is the holiday destination for you.
And as if that wasn't enough rootin' tootin' adrenaline packed adventure in a setting that could make an artist weep, there's one thing that's bound to get your heart pumping. 60 of those square kilometres are home to one of the biggest underground volcanoes in the world. An entire eco system thrives above this 640,000 year since erupted volcano and thanks to the great work of conservationists at the Park you can walk along it, knowing that right under your feet is a 2.1 million year old marvel (one that is overdue its next eruption!)
Tripening can take you right there. Great adventures shouldn't start with a long trek, our flights will take you there direct. All you need to do is book today, your adventure is one click away!
In case you haven't already been convinced that this is the next holiday destination for you, let us tell you about our Yellowstone National Park highlights.
Yellowstone was the first national park in the world and is home to the grand canyon, Yellowstone river and more natural wonders than most people will see in an entire lifetime.
Every inch of Yellowstone National Park is filled with magnificent sights of nature, but we've selected our top four to share with you today.
Grand Canyon of the Yellowstone
Is there anything more iconic than the Grand Canyon? Reaching depths of up to 1,200 feet deep this isn't the kind of place you can take lightly. The split is laced with waterfalls and geological history, spanning 40 layers of rock later dating back 200 million years. An age like that deserves some serious respect.
Hundreds of fossil can be found throughout the Park, but the canyon in particular is abundant. Brachiopods and other marine life are embedded in the deeper levels as well as much more delicate fossils like dragon fly wings. It truly is a place where history and modernity, strength and fragility, and space and detail combine. You won't be able to appreciate the beauty until you see it.
Mammoth hot springs
This historic district is a cluster of thermal James and hot springs, forced up from the tectonic plates at the bowls of the earth. Alongside are two things, a river of boiling water (autumnal colored by the algae that somehow flourishes there) and a place to stay. It really is a marvel of man meeting nature. Although there are hundreds of sights to see in this area, a few that took our interest were the Cleopatra Terrace, New Blue Spring and the infamous Liberty Cap.
Upper Geyser Basin
Encompassing the magnificent firehole river, the upper geyser basin is one of the most active and exciting areas in the Yellowstone National Park in our opinion. With constantly erupting geysers sending dramatic blasts of steam into the air it's a travelers dream. There's certainly no waiting around in this area, in fact you probably won't know which was to look. Besides, it's the perfect spot to be on a cold day – just don't get too close!
Hayden Valley
From the Canyon's reds to the golds and yellows of the geyser basins you might find yourself needing a little calm (okay you thrill seekers might not, but we needed a break!). The Hayden Valley is a verdant green, rolling on as far as the eye can see, and then a while more. It is the perfect place to take in some clean air, soft skies and drink a beer.
Depending on whether you have kids or not, there are a few times of year that really pack a punch. July and August are always a favourite with families  If you're looking for a more outback experience and to get back to your wild roots, April, May, September and October promise the most natural activity while the kids are still at school. Whatever time of year you decide to go, there's always plenty to see and do. And who knows, you might even find a fossil.
You can explore by foot, bike, car, segway, dirt bike or gyrosphere. Wait, scratch that last one, we've all seen Jurassic Park.
What are you waiting for? You can experience clean and comfort on the [[company name]] flight with great food, views and service. Forget hire cars and bus rides, the moment you set foot on the ground the adventure begins. Dive in, get dirty and dig up some history today.
Even if your bones last millions of years you only live once. Book now!
** All major cards accepted
And if you're looking for your next great adventure after Yellowstone, scroll through our blog. There are places that most can only dream of. Whether you're the kind of person who wants to bury their toes in the sand or climb the harshest terrains, [[company name]] have you covered!