halloween nashville
Get Ready For A Nasty Nashville Halloween!
Trick or treat yourself with our guide to one of our fave spots for some un-boo-lievable freaky fun!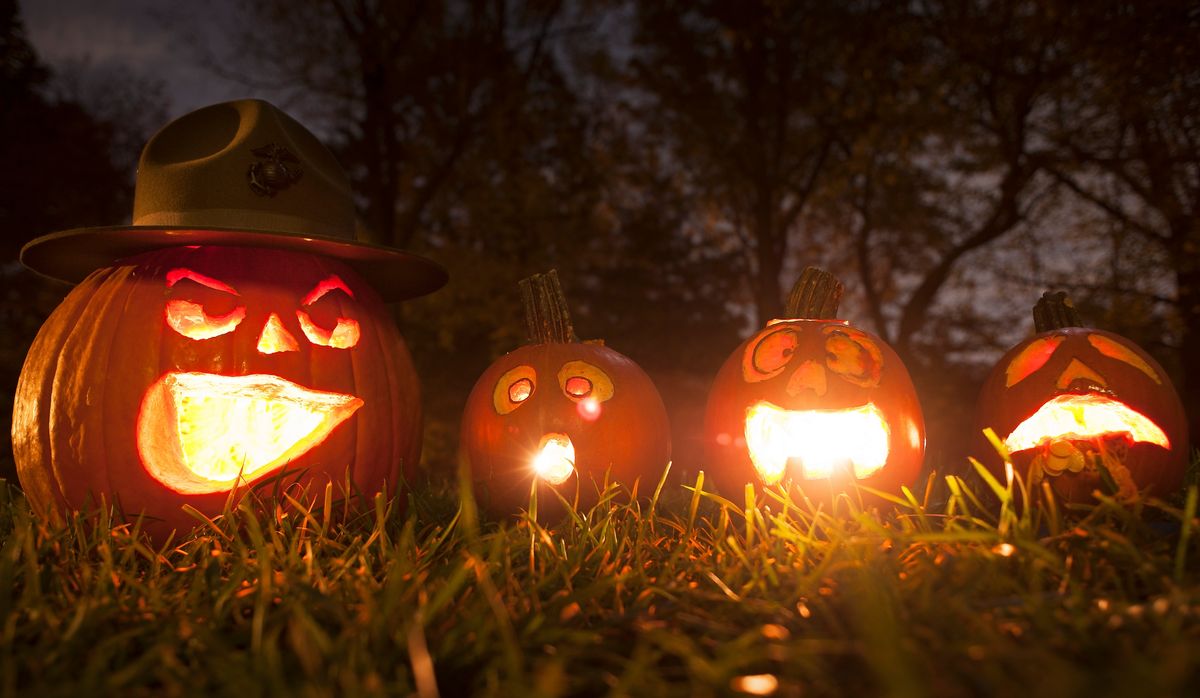 Image: Flickr
We don't want to spook you or anything, but Halloween is right around the corner, and there's nothing worse than scrambling around on the day to try and find things to do - whether you're flying solo or have a family to think about!
Thank goodness, then, for this last-minute guide to one of our favorite spots for some un-boo-lievable freaky fun!
October 25:
The Spirit of Halloween at Hathorne: Head to Sylvan Park between 6.30pm - 9.30pm for themed drinks and cocktail demonstrations. Tickets cost $75 and are only available for those 21 and over.
Shelby Bottoms Ghostbusters: Open for those aged 10+, this one-hour event between 7.00pm - 8.00pm will teach you all about the spoOooOoky history and folklore of Shelby Bottoms Park and the surrounding area.
October 27:
Great Pumpkin Festival: Cloak up in costume for some outdoor family fun at the Discovery Center between 4.00pm - 7.00pm!
Expect hands-on activities, arts and crafts, critter encounters, a 'haunted' walk-through experience, a costume contest and more! Tickets cost $10 for anyone over two. Members receive a $4 discount. Book here
Cha! Cha!'s Halloween Spook-tacular: This family fun-filled event is taking place at the Rainforest Cafe from 5.00pm, where you'll enjoy a kid's buffet, games and activities for just $15.99. Reservations are encouraged but walk-ins are welcome! Book now
Spooky Spectacular with Mr. Rich at La Vergne Public Library: Kids of all ages will love this fun event, starting at 5.30pm.
Trick or Treat at Drakes Creek: Join Hendersonville Parks for a night of free trick-or-treating, where candy, games, inflatables and prizes are all on offer between 6.00pm - 8.00pm.
October 28:
Nightmare on Terminal Court: Over 21s can expect DJs, a photo booth, tarot card readings and more in their $15 admission. Event time is 6.00pm - 11.30pm.
Halloween with ArteK in Wonderland: Journey down the rabbit hole to this fully immersive experience filled with a variety of performances. Tickets cost between $20 - $60 and are for 21+ only. Fancy dress is strongly encouraged (obviously!).
I Love the 80s to Death: A Murder Mystery Dinner: This ticketed experience is well worth the $100 price tag, thanks to the three-course meal and entertainment available between 6.00pm - 9.00pm.
October 28-29
Scream: A Halloween Event: Held on both Friday and Saturday between 8.00pm - 1.00am, dance the night away at Stu's rooftop party with DJs, cocktails and, er, killer views (quite literally!).
The $99+ ticketed event also includes an open bar, access to the haunted cinema and an experience with Ghostface that will leave you with a wider 'O' mouth than him. Be warned. 21+. Book now
STK Steakhouse Presents: Masquerade Vibe Ball Dinner: Come anytime between 3.00pm - midnight over the weekend for a steak dinner like no other, featuring costume contests, a live DJ, pumpkin menu and specialty cocktails! Serious fun for all the family!
October 28-30:
Upside Down Bar Crawl at Headquarters Beercade: Why opt for a one-day event when you can have a three-day one instead? Check into the Headquarters Beercade between 5 / 6.00pm (depending on the day!) to 8.00pm before heading to all the participating venues. Tickets cost between $25 - $60, are for 21 and over only and include costume contests! Get yours here
October 28-31:
Chuck E. Cheese Halloween Boo-tacular: Every day is Halloween at Chuck E. Cheese, and your little ones can get in on the action by coming to their fave pizza restaurant - adorned with giant cobwebs, friendly ghosts and floating bats - in fancy dress.
Halloween Bar Crawl presented by Barcrawlerz: Another three-day bar crawl to sink your teeth into, this time starting at Kung Fu Saloon. Tickets cost between $15 - $45 and are for 21 and over only. Get yours here
October 29:
Demons on Demonbreun: It's the 13th year anniversary of one of Nashville's largest, longest-running and most popular Halloween parties, meaning it's going to be extra spooky!
Expect a live concert, DJ set and a costume contest with a grand prize of $500 cash! The event starts at 9.00pm at Tin Roof Demonbreun.
Tickets cost $18 in advance (with discount) and $30 at the door. 21+ only.
Trick or Drink: Spooky Soiree: One of the pricier ones on the calendar at $150 per person, but with live entertainment, themed cocktails, delicious food, costume contests, a photo booth, fortune tellers and tarot card readers all at The Rutledge, you won't regret it!
Acme Halloween's Children of the Corn: Expect costume contests, specialty drinks and live music as part of your $15 entrance ticket to this 21 and over party between 7.00pm and 2.00am.
Halloween Party at Overlord: A free event where you'll enjoy tarot readings, burlesque dancers, costume contests and specialty drinks!
Deadly Disco: Another free event, you say? Fang-tastic! Settle into Diskin Cider for the night, where you'll get all of the above, plus a live DJ dance party and food truck!
Fable Cry's Festival of Ghouls: Head to the OZ Arts Nashville at 8.00pm for an immersive Halloween cabaret performance. The event is for 18+ and tickets cost $20. Buy yours today
Monster Mash: The Jackalope Brewing Company is home to this event which features immersive experiences and three costume contests! Admission is free and for 21 and over only.
Nightmare on Que Street: Talk about a fright - the price of this Halloween party held at the Horton Building goes up to $600! You can, however, choose a range of far-lower tickets starting from $50 (phew!).
Carnevil: Expect a full carnival experience at Gulch with acrobatic performances, DJs and themed drinks. Tickets cost $50 and are for 21+ only.
Fright Fest: Head to Rocketown at 8.00 pm for a trippy experience like no other, featuring costume contests and giveaways. Tickets cost between $15 - $20 and 14+ are welcome.
Halloween Bar Crawl presented by Crawl With Us: Starting at the Lucky Bastard Saloon, your $14.99 ticket will give you entrance to a variety of bars, two complimentary drinks and food specials. Party starts at 4.00pm through to midnight, so come prepared!
Halloweekend Hangover Bar Crawl: Start at Kung Fu Saloon at 3.00pm for a Midtown bar crawl that will take you through to 2.00am! Tickets cost between $10.99 - $20.99 and are for 21+. Book now
All Hallows East: Head to the Five Points Neighborhood from 2.00pm - 10.00pm for costume contests, a haunted house, live music and delicious food! Tickets cost between $15 - $89 and under 12s are free.
Haunted Hijinks at Linebaugh: Dress your little ones up and enjoy halloween candy, comics, caricatures and an escape room between 10.00am - 4.00pm!
Pumpkin Power at Shelby Bottoms: A free, family-fun adventure awaits! Bring a pumpkin to carve, watch a movie, take part in ghoulish games and try your hand at some creepy crafts!
Hocus Pocus at La Vergne Public Library: A fun family matinee, complete with candy, popcorn and a drink! Starts at 2.00pm.
Halloween Glow in the Park at the Adventure Park: The 28th has already sold out, so book fast to get one of the last remaining slots for this incredible illuminating event! Zipline, rope and make your way through the LED-lit trees at night - you're sure to have the most fa-BOO-lous time!
Nashville 'Crawl-O-Ween' Mega Pub Crawl: Don your scariest costume and join this annual event, promising hours of fun! Exclusive drinks, costume contests, prizes and classic games await! Get your tickets here
October 27-30:
Halloween Dinner at Dorsia: This pop-up experience at Ellington's offers two seatings each night - one at 6.00pm and one at 8.30pm. As part of your $109 ticket, you'll enjoy a three-course dinner, welcome cocktails and an interactive theatre experience.
October 28-30:
Pumpkin Patch Parties: Friday, October 28, 4.00 - 7.00pm and Sunday, October 30, 1.00pm - 4.00pm are the last remaining days to come to this epic event where you'll paint pumpkins, build scarecrows, play games and stuff your face with treats! Fancy dress is encouraged!
October 29-30:
STK Steakhouse Presents: Boos & Booze Brunch: Bottomless mimosas, Bloody Marys, costume contests, a pumpkin-themed menu and live DJ await! 21 and over only.
October 30:
Cemetery Tour at Cragfront: Walk through this historic cemetery and learn about the people buried here and the significance of the tomb shapes. Because what's Halloween without a bunch of dead people?
Community Trick or Treat at Belle Meade Historic Site: It's the 20th anniversary of this free, family-friendly event, filled with games and crafts. The event - held between 1.00pm - 3.00pm - is free, but you must reserve your ticket beforehand.
Fall Festival at Woodmont Baptist Church: This free event is open to the public and features inflatables, cotton candy, popcorn, a photo booth, a pumpkin patch, a pumpkin decorating station, games and costume contests!
October 31:
Trick or Treat at Gallatin Square: Your preschoolers will love this fun-filled day out!
Halloween Double Feature at Hendersonville Library: See Halloween out in style with this family-friendly (not-so-scary) movie event.
It's time to trick or treat yourself So, which of these events will you choose?
Read more:
Our Top US Cities: Part 4 - Nashville