tn
Our Top US Cities: Part 4 - Nashville
Head on down to Tennessee to discover what makes Nashville one of the top US cities to visit. Y'all are gonna just love the hot chicken, the Honky Tonk and the southern charm of God's Country. Here are some of our best things to do in Nashville: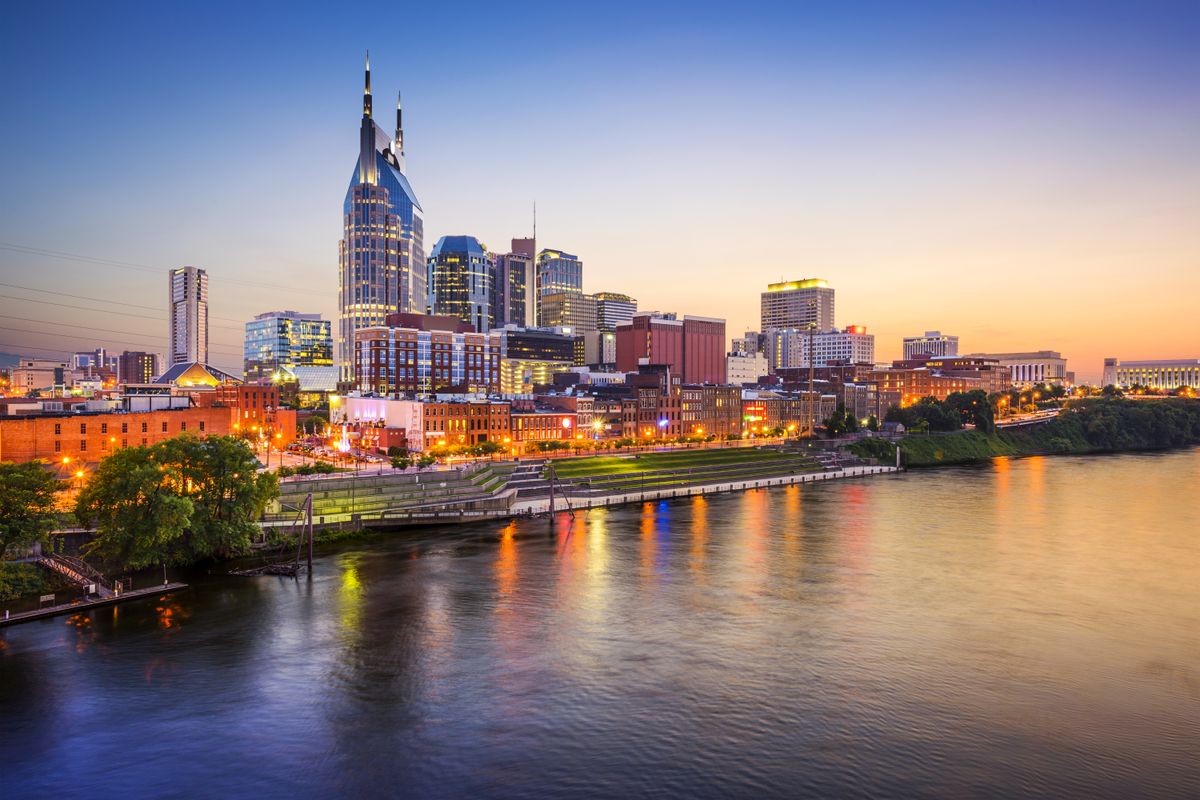 Image: Derrick Brutel, Flickr
Head on down to Tennessee to discover what makes Nashville one of the top US cities to visit. Y'all are gonna just love the hot chicken, the Honky Tonk and the southern charm of God's Country. Here are some of our best things to do in Nashville:
The food
From a hearty southern, home-cooked meal to Michelin-starred cuisine - and everything else in between - the culinary scene here certainly won't leave you hungry. Boasting some of the best restaurants in the country, its eateries continue to disrupt the global food scene - and for good reason. While its signature dish is hot chicken, you can also expect to see 'meat and threes' on the menus, which - as it says on the tin - is a typical southern dinner consisting of a meat and three sides (usually mash and gravy. Mmmm.). Of course, it would be remiss of us to omit the Nashville barbecue and sweet tea, which is considered the 'table wine of the South.'
Speaking of wine, the Arrington Vineyards are a must-visit for any tourist - especially on a Friday, courtesy of Food Truck Fridays.
The outdoors
Get ready to explore the rolling hills and sparkling waters in the mild year-round temperatures offered by the city. Hiking, biking, climbing and water sports; no matter what you're after, you're sure to find a wealth of things to do that tick all your adventure boxes. Mother Nature has never looked so good. Here are some of our best outdoorsy things to do in Nashville:
Cumberland Park. The best place to see the Cumberland River - the 700-mile waterway that flows through Tennessee and Kentucky. It's the perfect location for anyone wanting to have a bit of fun, both in and out the water (read: absolutely everyone!). The massive splash pad is probably its biggest attraction, but there are also bike paths, climbing structures and butterfly gardens to enjoy, too. It should definitely be up there with one of the best things to do in Nashville. Book a cruise on the General Jackson Showboat for a country music fix while you float along the river!

Warner Parks. A reminder that Nashville boasts some of the best, most beautiful natural landscapes in the country comes courtesy of these twin parks - Edwin Warner Park and Percy Warner Park - spanning thousands of acres in the TN wilderness. Expect everything from nature trails to picnic areas; horseback riding to a round of golf. You certainly won't be short of things to do here.

Long Hunter State Park. Paying homage to the Native Americans who worked the land, this park is known for its relics, lectures, workshops and demonstrations. And even when there are no special events on, you can still enjoy hiking, swimming, boating, fishing and camping in this tranquil spot.
Read more: The Best City Parks Near Me (& Not So Near Me)
Radnor Lake. Be prepared to have your breath taken away by the sandy shores, jagged rocks and sparkling waters of this natural beauty that's so special it's considered a Class II Natural Area, protecting it from commercial development. Wildlife is abundant here, so you're in for a treat if the idea of getting up-close and personal with animals in their natural habitats gets you all warm and tingly inside. Just don't forget your binoculars!

Shelby Bottoms Greenway. Nature lovers, unite! Home to forests, swamps, streams, fields, paved trails and wetlands, there's always something to marvel at throughout every season. For an extra challenge, see if you can spot the golden pheasant that pops up at certain times of the year before he disappears again.
The art, culture and history
Since its foundation in 1806, Nashville has been a hotbed of history, and you can walk back through time with the presidents of old who called this Tennessee dream home, recall the Civil Rights movement and learn why it features so heavily in pop culture through the various cultural offerings throughout the city. Here's what makes it one of the top US cities to visit:
The Tennessee Performing Arts Center. Home to various performances, concerts and other events, it even includes a fine arts museum with a dedicated children's gallery.

Bicentennial Mall State Park. An outdoor museum filled with exhibits that reflect the history of Tennessee.

Johnny Cash Museum. We will, of course, come back to the music scene soon, but Nashville is nothing if not the place that made the 'Man in Black' - one of the most beloved stars of country music to date. And you can get seriously intimate with him through a variety of exhibits on show here, including some handwritten lyrics for two of his most famous songs, guitars, stage outfits, photos, letters and even one of his 13 (!) Grammys!. Finish off with a visit to the attached café, where a live tribute band plays his songs, and you've got yourself one of the best things to do in Nashville - especially if you're a fan.

Belle Meade Plantation.  Built in 1845, there's a lot of history still wrapped up in the 30+ acres here. Evidence of gunfire from the two-day Civil War Battle in 1864 can still be seen in the stone columns, while guided tours tell the story of the enslaved people forced to live and work here. Cabins, stables, carriage houses and slave quarters are all still here.

Nashville Parthenon. Head to the reproduction of the Greek Parthenon, standing here since 1897 to commemorate Tennessee's first century. This is because Nashville used to have a reputation for education - offering the largest number of higher learning institutions in Tennessee - and was sometimes nicknamed 'the Athens of the South'! (We reckon that alone makes it deserving of being one of the top US cities to visit!) Initially built of wood, today it is made of cement, and it houses a permanent art collection of American painters, as well as a 42-foot-high gold leaf model of the goddess Athena Parthenos. Whet your appetite to see the real thing? Book your Athens city tour with Acropolis museum here

Belmont Mansion. Built in the 1850s and designed in the style of an Italian villa, this is considered one of the most opulent mansions of its kind in the US. Preserved mostly with much of the original furnishings and décor, today it features art exhibits and elaborate gardens.  

Tennessee State Capitol. Open since 1859 and one of the oldest working Capitols in the US, you can go on a self-guided tour whenever it's open and enjoy incredible views at the same time! It's also another of the best free things to do in Nashville!
The music
But, of course! The home of country, Tennessee's capital - aka Music City - is also a hotspot for gospel, indie, rock, hip hop and basically every other musical genre you can think of. No matter where you are in Nashville - one of the top US cities - your experience is bound to be soundtracked by some of the best music in the world. So, grab your dancing boots and check out what's on offer:
Grand Ole Opry. This - the longest-running radio program in the country - has presented more than 5,000 shows since its first broadcast in 1925. You can enjoy skits, comedy routines and toe-tapping music all for yourself before doubling down on the fun by booking a backstage tour for a real VIP experience! It is - quite simply - a rite of passage when you're in the South, and you'll soon see why it's hailed as 'the show that made country music famous.'

Ryman Auditorium. Home to the Grand Ole Opry until 1974, expect a richness of exhibits to reflect its musical past here. Book a guided or self-guided tour, head backstage and have a go at recording your own song - there's a lot of fun to be had here!

Country Music Hall of Fame & Museum.  The first thing you'll probably notice about this impressive building is that its tall windows resemble the keys of a piano, and that's only just the beginning. Step inside and be wowed by one of the largest musical collections on the planet, along with a multimedia display of historical performances, instruments, costumes, records and other impressive memorabilia, such as one of Elvis' gold Cadillacs and a tour bus, on which you can record your own country music! There are more than 2.5 million artifacts on show here, so make sure you dedicate enough time in your itinerary to really get the most out of it (although you probably won't see it all in one visit!).

Musicians Hall of Fame and Museum. Studios, stages and guitars of some of the most beloved names in musical history (think Elvis, Elton John, Johnny Cash and Jimmy Hendrix!) fill this 30,000 square foot interactive museum, inviting you to try your hand at mixing music and play your own instruments.

Music Row. Bursting with radio stations, record labels, music production companies and recording studios (including RCA Studio B - more on this soon!), this is one of the most famous streets here. Most of the roads are named after country singers and you can enjoy the whole experience of it by joining any one of a number of tours or simply walking past the local landmarks, including one statue of a famous producer in front of a grand piano. Definitely one of the best things to do in Nashville - even if you're only here to snap a selfie or two!

RCA Studio B. The 'home of 1,000 hits' pumped out record after record in its heyday, including some of the most defining 50s and 60s sounds by stars such as Elvis Presley and Dolly Parton! While it is no longer in use as a recording studio, it remains one of the city's most protected sites, and you can join a scheduled tour to go behind the scenes.

Downtown Nashville. The hub of country music and home to lots of the above attractions, this is also the place to head if you just want a fun, vibey night out. Walk down the neon-lit district of Broadway - the beating heart of the area - and let the wafting live music from competing establishments tempt you. You'll be spoilt for choice with what's on offer, from rooftop bars with swimming pools to honky tonks serving fried bologna sandwiches. Don't forget your dancing shoes! Go all-out with a Nashville party bus tour!

As you can probably tell, there's never a dull moment in this remarkable place, yet what truly makes it one of the top US cities to visit - aside from all the obvious - is that the people are just so darn nice! You can rest assured that you'll be leaving with a friend (or three) - not to mention the fact that they make the most helpful tour guides while you're there, too! Offering a relaxing and laid-back atmosphere, the southern charm of Nashville is truly the place to go if you want to stop and smell the (Guns N') Roses.

Read more about our other top US cities:
Our Top US Cities: Part 1 - Las Vegas
Our Top US Cities: Part 2 - Chicago
Our Top US Cities: Part 3 - Boston
Our Top US Cities: Part 5 - New Orleans
Our Top US Cities: Part 6 - Miami