best places in japan
Is Japan Open For Tourism? 28 Best Things To Do
Yes - travel to Japan is back and yes - you absolutely must read about all the reasons it should top your bucket list!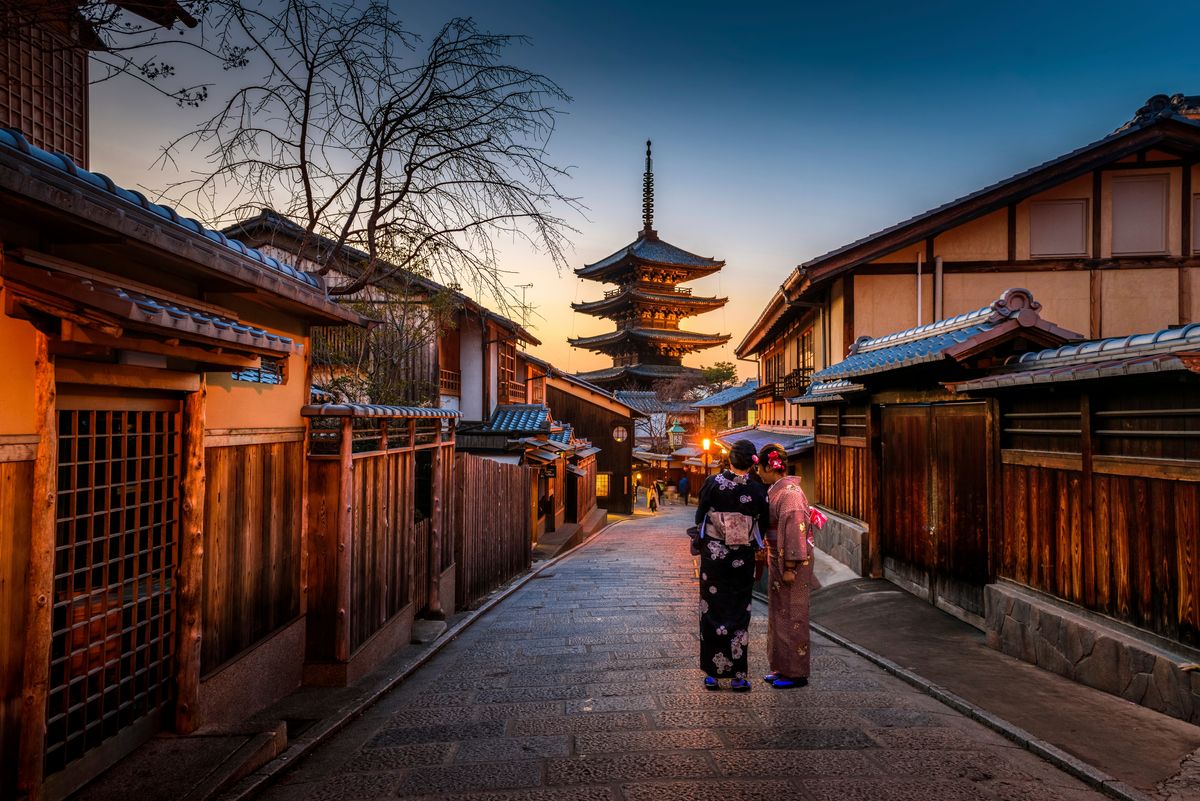 Image: rawpixel
While Japan, like most of the world - has spent much of the last few years closed to tourists, it is well and truly on the up, having welcomed 100,000 foreign visitors for the fifth consecutive month, according to The Japan Times. And, when you read just how many things there are to do in this incredible country, you'll soon see why you absolutely must travel to Japan:
Spend the night in a Ryokan
An old-fashioned Japanese inn with traditional hospitality at its core, the elegant, minimalist space of a Ryokan is the perfect place to unwind after a busy day of touring. Not only will you be served green tea on arrival, but breakfast and dinner (usually an epic, multi-course meal!) are included in the price, too!
You can upgrade the experience by choosing an ultra-luxurious Ryokan - complete with private baths and exquisite views of Japanese gardens. (Yes. Please.)
2. Soak in an Onsen
Usually located close to a Ryokan, this 3,000-year tradition is an absolute must-do experience in Japan - at least once! Onsens (hot spring baths) - of which there are thousands due to the active volcanic area - come in many forms: indoor and outdoor, basic and luxurious, big and small, but no matter how you choose to soak in the steaming hot waters, it's a bucket list classic! Note that this is a naked experience, but most are divided by gender.
Stay in the Niseko Konbu Onsen Tsuruga Besso Moku No Sho hotel for the full experience
3. Visit historical Hiroshima
This city in southern Japan, known for being hit by the first ever atomic bomb during World War II, has since been rebuilt but still carries with it a ton of history, especially in the Hiroshima Peace Memorial Museum and Park, which - through its displays of salvaged items and artifacts - is credited as changing the way visitors view world conflicts.
4. Sail to Japan's Shrine Island …
Just a short ferry ride from Hiroshima is the island of Miyajima, best known as the home of the Itsukushima Shrine, which is a Shinto temple dedicated to the daughters of the wind god, Susanoo, among many others. At high tide, they look as if they're floating on water, which is a seriously stunning visual.
The island also entertains visitors with traditional dances and musical performances, as well as some gorgeous grounds and gardens, which are wild deer and numerous bird colonies call home.
5. … and see other Temples & Shrines of note
Shinto shrines are where the Japanese pray for good fortune, and many have a wall of wooden tablets - known as ema - where you can write down your wishes. Here are some of the best worship wonders to know about:
Meiji Shrine, Tokyo. Dedicated to Emperor Meji - the first emperor of modern Japan - and his wife. Made up of a complex of buildings, it's surrounded by 100,000 trees that were planted after the shrine's rebuilding following its destruction during the war.
Fushimi Inari-Taisha, Tokyo. Home to the gods of rice, this is one of the most important shrines in Japan, famed for the thousands of bright orange gates that snake over a web of trails, which you can complete in around 90 minutes.
Dazaifu Tenman-gū, Fukuoka. Students pray for good exam results at this plum-tree decorated shine!
Izumo Taisha, Tokyo. Tokyo's oldest Shinto shrine!
Atsuta Shrine, Nagoya. Established in the first century, this is one of the most important Shinto shrines to visit. Its flagship, Hongu, is surrounded by numerous paintings, ceramics, jewelry and traditional masks. Book a Shirakawago tour from Nagoya
Sensoji, Tokyo. Tokyo's oldest temple is also one of its most loved! Dedicated to Kannon, the goddess of mercy, it's a beautiful homage with a long and detailed history. Today, it is mostly used for spiritual healing, although it's a popular tourist spot, too, helped, in part, by the nearby shopping street.
Kiyomizu-Dera, Kyoto. This UNESCO World Heritage Site is also known as the 'Pure Water Temple' due to its location on the Otowa Waterfall and is one of Kyoto's most celebrated temples, home to the god of mercy and compassion, Kannon. It has been standing since 780 CE and is famed for its wooden stage, which overlooks the beautiful city, and colorful trees.
Naritasan Shinsho-ji, Narita. Dating back more than 1,000 years, this is one of the most popular Buddhist temples in the country, paying homage to a statue of the Buddhist god, Fudo Myoo. The approach to the temple grounds is exactly as it always has been, which is an experience in itself!
Todaji Temple, Nara. Home to the 15-meter tall bronze statue of Buddha, dating back thousands of years.
Mount Koya. Trek up this sacred pilgrimage spot - the birthplace of Shingon Buddhism - and enjoy the solitude of the lush forests before reaching the awe-inspiring Garan temple complex, home to over 100 different temples, including the Torodo Temple, which reflects thousands of lanterns in its huge mirrored hallway and houses hundreds of shrines. You can even stay the night in one of these temples, soaking in communal onsen baths, enjoying delicious vegetarian meals and joining the monks for their morning chanting and fire ceremony.
Nikko. This mountain town a few hours north of Tokyo is full of UNESCO World Heritage temples, including the main attraction, the Toshogu shrine, which features more than a dozen exquisitely decorated red and gold buildings standing amid ancient cedar trees.
6. Pay respects at Koyasan Okunoin
While spending time at a cemetery may not seem like the most obvious choice on vacation, this - one of the most sacred places in the country - is certainly an exception to the rule. Home to the mausoleum of Kobo Daishi, the founder of Shingon Buddhism, it's a popular pilgrimage spot for those seeking salvation.
Visitors also make offerings and pray for family members they have lost at Gokusho Offering Hall.
7. Keep Kyoto in your sights
The one-time capital of Japan until 1869, you could easily spend your whole vacation in this amazing city - one of the few in the whole country to be spared the devastation of the war.  Here are just some of the highlights:
Gion. This famous district is filled with geishas, as well as many restaurants, teahouses, shops, temples and shrines. Book a stay in APA Hotel Kyoto Gion Excellent
Nishiki Market. A centuries-old, organic and locally-sourced seafood market, also known as Koto's Kitchen, that's a treat for all the senses! Although only the length of a few city blocks, it certainly packs a punch in its offering of over 100 different food stalls, shops and restaurants, many of which give free samples to taste as you stroll along.
Golden Pavilion. Kyoto is home to over 16000 temples and 4000 shrines, yet this is one of the most famous temples in Japan due to its exquisite gold-leaf exterior.
Nijo Castle. An early 17th-century fortress that has retained its original walls, towers and moat, along with the palace, which boasts fine interior décor, and charming lush gardens.
Kyoto Imperial Palace. Built in AD 794, this is one of the city's most visited historic sites.
Japanese Gardens. Kyoto is the best place in the whole country to enjoy a Japanese zen garden.
Arashiyama. Just a few kilometers from the bustle of Kyoto lies this gorgeous resort, filled with a beautiful four-kilometer bamboo grove, the famous Togetsukyo bridge, the Oigawa river, a number of different temples and the much-loved monkey park, boasting a troop of more than 120 Japanese macaques who roam freely, allowing you to get up-close and personal with these cheeky chaps!
8. Spend time in other bamboo forests, too
Arashiyama may be the most popular, but Japan is filled with magical bamboo forests imbued with natural beauty - many far less crowded and, therefore, more peaceful.
9. Go bar-hopping at Shinjuku Golden Gai
Over 200 small bars and eateries line this narrow alley that comes to life at night!
10. Take time for Tokyo
Akihabara. Anime is everywhere in Japan - from toys to video games, fashion to credit cards! And - if you're a true devotee - you simply cannot miss a trip to Akihabara in Tokyo, where you'll see characters brought to life in costume everywhere you turn and experiences to fulfill any anime nerd's life.
Maybe you'll dress up as Super Mario and go real-life Go-Karting (yes, really!); maybe you'll spend hours perusing the endless stores dedicated to comics, retro collectibles and cutting-edge tech gadgets; maybe you'll do both - and, in Akihabara, not only is that totally fine but encouraged! Book a stay in The Tourist Hotel & Cafe Akihabara
Studio Ghibli Museum. A quirky museum for any anime fan, offering props and drawings from one of Japan's greatest animation studios.
Capsule hotel. It might look like something straight out of a sci-fi movie, but a fantastically awesome way to save money in a big city like Tokyo is to stay in a no-frills room that's basically just the size of a bed. You won't find a more unique experience than that, trust us!
Harajuku. A hub of Japanese pop culture.
Shinjuku. The biggest business and entertainment area in Tokyo is filled with clubs, karaoke rooms, bars and restaurants - notably the famed Robot restaurant, which is actually less restaurant, more dragons, ninjas, blue-haired dancers, clowns, swinging guitarists, drummers, glittery-bikini-clad women, flashing neon lights, lasers, and, of course, gigantic robots!
Shibuya. The most famous shopping area in Tokyo and also home to the celebrated-yet-insane Shibuya Crossing sees thousands of people rushing at every light change. You can either choose to brave the crowd yourself or view it from the nearby Starbucks - we know which one we'd prefer! (Grande Mocha Frappuccino with extra whip, please.)
Asakusa. If you love traditional craft shops, you'll definitely want to spend some time here. Book an Asakusa walking tour
Ueno park. Home to a zoo and several museums, including the Tokyo National Museum - a must-visit if fine art, ancient pottery, beautifully made kimonos and samurai swords are your jam!
Imperial Palace. Once home to the Royal Family, the grounds and gardens of one of the most important buildings in Japan are open to the public and make for a lovely day out. Book a stay in the Mets Akabane Tokyo hotel
Colorful TeamLab Borderless Museum. This unique digital art museum is an immersive experience that gets you walking around in the dark while interacting with a series of colorful exhibits of light and sound. If lasers, crystal rain and floating lanterns don't get you excited, then, honestly, what will?
11. Marvel at a Japanese garden
Immaculately presented works of art, Japan's picture-perfect gardens are second to none. Here are our top two picks:
Kitakyushu's flower tunnels and garden. You'd be forgiven for thinking you've fallen down the rabbit hole with Alice when you stroll through the breathtakingly brilliant purples, pinks and lavenders of the flowers that hang from the ceiling in this dazzling wonderland.
The experience doesn't end once you come out the other side, either; instead, you'll be met by the Kawachi Wisteria Garden, filled with perfectly manicured wisteria flowers and some of the most beautiful views Japan has to offer.
Kenrokuen Garden, Kanazawa. Once part of the grounds belonging to Kanazawa Castle in the 19th century, expect to pass pools, brooks, teahouses, flowerbeds and sequestered pockets offering unrivaled views.
12. See Sumo Wrestlers
A serious sport in Japan that's filled with tradition, matches still include Shinto rituals that date back to its ancient origins - meant to entertain the gods - such as purifying the ring with salt.
Tournaments happen a few times a year in Tokyo, Osaka, Nagoya and Fukuoka and it's a sensational spectacle if you can catch one!
If you're not there for one of the tournaments, don't worry! The area of Ryogoku is dedicated to sports, including sumo wrestling and boxing, and is also home to a stadium and museum. You can even watch sumo wrestlers practice in their stables for free!
13. Watch a Kabuki performance
The traditional art form of Japanese theater has a well-known, dramatized stage play at its core, along with dance and music.
14. Feast on the food …
The specialties of Japanese cuisine know no bounds, and - as such - there are countless dishes and ways to experience them here:
Sushi. The trademark of Japanese food may have dominated the western world in recent years, but there's truly nowhere better to enjoy it than in its country of origin!
You can find it pretty much all over the country - from convenience stores to fine dining restaurants - boasting see-it-to-believe-it sushi conveyor belts! Toyosu Fish Market is another popular place to try it, as is Tsukiji Market. Be warned, however; there are strict rules to eating Japan's most famous food in Japan! Book the Golden Gai sushi experience
Ramen. Any topping, from eggs to chicken, can be added to this much-loved noodle soup.
Sake. This alcoholic drink made from rice is like nothing you'll have ever tasted before.
Okonomiyaki. Osaka's classic comfort food is a sizzling seafood and cabbage pancake, and you won't be short of places to try this cheap, hearty meal! In fact, Osaka is one of the best places in Japan to tantalize your taste buds, and you happily do so on a food tour. Stay in the APA Hotel Osaka Higobashi Ekimae
Kaiseki. Treat yourself to a traditional (if expensive!) multi-course tasting meal made up of exquisitely prepared dishes of only the finest, in-season ingredients.
Cooking class. Tick all of the above off the list by joining any one of the cooking classes available all over the country. (Just make sure you wear loose clothing!)
15. … and taste the tea!
Tea is not just a drink in Japan; it's an experience, and you simply cannot spend time here without joining a ceremony - available all over the country - where you'll be taken through the ritual, how to brew your own cup, and - finally - the concept of ichi-go-ichi-e, cherishing the moment as if it will never happen again. Save around four hours for the experience - it'll be worth it!
You can also while away a lovely few hours at a tea shop, where Matcha is the order of the day - a powdered green tea that Japan is famed for - accompanied by wagashi, sweets made from rice, red beans and sugar (and tastier than they sound!).
Read more: Tea For Two: The Top 9 Experiences Worldwide
16. Have a right royal time at a castle
Fukuoka Castle. The once-grand establishment built in the early 1600s is in ruins today, but visitors enjoy the lush walking trails and sensational views over the Naka River, not to mention the endless events and festivals that take place here throughout the year.
Fukuoka is also home to Hakata - a canal city within the city that boasts shops, hotels, restaurants and a theater.
Himeji Castle. One of the few remaining castles in Japan that's never been damaged, come see for yourself what makes the White Heron Castle - a UNESCO World Heritage Site - one of the most beautiful in the country.
Matsumoto Castle. Step back in time to this 1592 historic six-story wonder, located in the city of Nagano and one of the designated National Treasures of Japan.
17. Head to Hokkaido
The cultural hub of Sapporo - located on Japan's most northern island - is a great spot for tourists, offering several museums, galleries, parks, events and festivals, as well as a distinctive culinary style. Sapporo is also known for brewing incredible rice-based sake and beer.
Downtown, you'll find Odori Park and the Sapporo TV Tower.
18. Ride a Bullet Train
The Shinkansen network is extensive and the trains clean, comfortable, quiet, prompt and ultra-fast (the clue is in the name - almost 200 miles an hour, making it one of the fastest bullet trains in the world!). Most importantly, as well as providing an easy and reliable form of transport, it's also another experience for the bucket list - genuinely one of the coolest things to do in the country (especially if you pair it with a lunchtime Bento Box!).
Top tip: Buy a Japanese Rail Pass - providing heavy discounts and available to tourists only. Without this, the ride can be pretty costly!
19. Spend a day (or three!) at the theme parks
DisneySea. As if you need any convincing to spend some time at what is probably one of the best Disney theme parks in the world! Bursting with adrenaline-pumping rides, Broadway shows and more cocktails than you'll have time to drink, this is truly one for all the family.
Universal Studios. An absolute must for any fan of a certain boy wizard with a lightning scar on his forehead, thanks to the indescribable World of Harry Potter - arguably the highlight here. Stroll through Hogwarts, meander down the cobbled streets and enjoy a glass of butterbeer; you'll feel the magic instantaneously.
There are, of course, countless other rides and experiences throughout, like Jurassic Park and Japanese exclusives, such as Hello Kitty.
Do day trips get any better than this?
20. Watch pearl diving
On Mikimoto Pearl Island, professional divers go searching for pearls without any gear! It's an incredible thing to witness.
21. Okinawa Churaumi Aquarium
More than 150 islands dominate the unique archipelago between Taiwan and Japan and this beautiful stretch of land is also home to the aquarium - widely considered to be the best in Japan. Expect to come face-to-face with almost 700 species of marine life, including sharks and manta rays.
Other attractions include a deep water exhibit - filled with bioluminescent fish - as well as outdoor pools where you'll find dolphins and sea turtles.
22. Catch the firefly squid in Toyama Bay
The mysterious Hotaru Ika dive deep underwater during the day and resurface at night to mate, glowing an electric blue that lights up the ocean.
23. Cycle around the Seto Inland Sea
The Shimanami Kaido is the stuff of cyclists' dreams, owing to the 43-mile route that spans six islands and gives the otherworldly sights of the jade trees, the smell of the orange groves and the feel of the sea air. Stop along the way to swim at secluded beaches and you've got yourself the most tranquil adventure.
24. Say 'hi' to Hakone
Known for its breathtaking mountains and relaxing hot spring resorts, the paradise town of Hakone is a must-visit. Spend some time at the Hakone Open-Air Museum, made up of 100+ outdoor sculptures which live among the striking 17-acre landscape in a unique balance of art and nature and enjoy a pirate ship cruise on Lake Ashi!
Read more: The 12 Best Pirate Themed vacations
25. Spread some cheer with the Cherry Blossoms
Be under no illusion that the late placement of this - the Hanami Festival - indicates a lesser experience; on the contrary. If you manage to time your trip with spring, you'll be mesmerized by the beautiful blossoms in bloom.
Take a picnic under a tree and soak up nature's finery - it's well worth the hype (and then some.).
26. Marvel at Mount Fuji
An icon like no other, this perfectly shaped volcano is Japan's highest and most sacred mountain, having been worshiped for millennia. We recommend dedicating a few days in the area, however, as Japan's most recognizable landmark is notoriously coy and often covered with clouds.
Some of the best places to see Mount Fuji include Lake Kawaguchi, Arakurayama Sengen Park and the bullet train, traveling from Tokyo to Kyoto or Osaka.
For the challenge seekers among you, you can climb it from July to early September.
27. Enjoy the art island of Naoshima
This small rural island in the Seto Inland sea has been converted into a hub of contemporary art, and you can soak up the endless museums and galleries amid the spectacular coastal views and balmy Mediterranean climate. A simple delight.
28. See traditional thatched houses in Hida Folk Village
This fascinating open-air museum is beautiful, especially in the autumn.

Phew! We reckon you definitely deserve a trip after reading all of this! So, whaddya say?
Visit Japan today!
Read more about Japan: