skydiving
Where's Best To Go Skydiving In Chicago?
A skydive experience in the windy city is definitely one for the bucket list. But which is the best for you? We tell you everything you need to know --->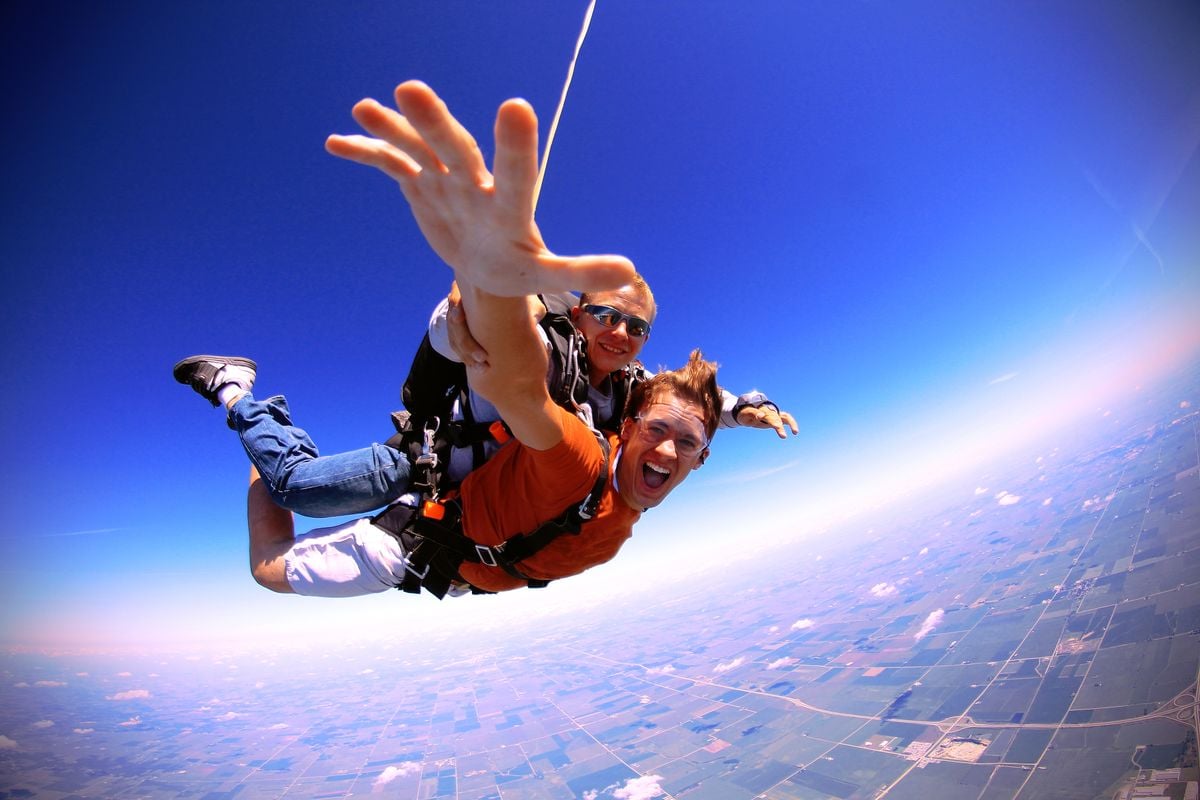 While you can go skydiving anywhere in the world, it's probably safe to say that doing so in the windy city is an experience like no other. As you might expect, therefore, Chicago offers a multitude of options. But which is the best for you? We tell you everything you need to know:
Skydive Chicago
Based in Ottawa, Illinois, this is a popular option for first-time tandem jumpers. You must attend a short training class before being harnessed to one of the highly experienced instructors and falling 13,000 feet through the sky for 60 seconds. Prepare to hit speeds of up to 120 mph, before enjoying a 5-7 minute canopy ride in which you'll soak up the stunning panoramic views.
Prices for this start from $269 per jumper if you book at least one day in advance, $299 for a walk-in and $249 if you're in a group of three, part of a birthday party or in the military. And if you're left wanting more? You can sign up for the Advanced Freefall Program (one of the most progressive curriculums currently used in the skydiving world) the same day and learn to skydive alone!
Prices range from $240 to $3422, depending on how qualified you want to be!
There are, of course, other packages for more experienced jumpers, costing $30 per jump (or less if you bulk buy), camping facilities on site, a restaurant, swimming pond, bike trails, volleyball and golf courses - phew!
No matter what kind of experience you choose, you can also add a media package, in which a camera will capture the incredible moment you fall from the sky. Prices range from $109 to $189, depending on the type of camera.
Chicagoland Skydiving Center
CSC in Rochelle, Illinois, has been offering skilled instructors and packages to suit novice and experienced skydivers since 1968. Falls range from 9,000 to 18,000 feet (the highest you can legally jump in the US!).
If you are planning to tandem jump, you can either do so alone or as part of a group, which will save a lot of hanging around (and may well give you a much-needed confidence boost if you're beginning to feel a bit wobbly!). Prices range from $159.99 to $399.99 per person, depending on the length of the fall.
The United States Parachute Association (USPA)-approved Freefall University Skydiving School is also open for anyone who wants to become licensed. You'll then be free to jump out of planes all over the world!
Other features include an on-site bar and restaurant, camping area, RV park, sand volleyball court and fire pit.
CSC also runs a busy calendar of year-round events.
Skydive Midwest
Offering a jaw-dropping view of Lake Michigan and the Chicago skyline, this USPA-member experience in Milwaukee, offers both a premier tandem skydive experience from 14,000 feet high and a licensed skydive course, too.
Prices range from $219 to $259 per person (excluding group prices), while photo and video packages range from $99 to $189.
Skydive Windy City Chicago
Another fantastic option for being within touching distance of the Chicago skyline. Packages for solo, tandem or group jumps are all available from a height of 14,000 feet. A multi-lens 360º video camera is used on every jump, meaning you'll get high-quality images of your experience. You can also receive skydiver training here as part of the Solo Training Program, which will help you earn your USPA license.
The cost of a tandem skydive starts at $229.
IFly
If you love the thought of flying through the sky without jumping out of a plane - or if you're looking for a more family-friendly activity - you're in luck; the indoor skydiving company, IFly, has three locations in Chicago alone - Lincoln Park, Rosemont and Naperville.
Get the skydiving feel and replicate the sensation of jumping out of a plane from over 12,000 feet via a state-of-the-art technological space-age flight chamber powered by extremely powerful fans, creating winds of up to 185 mph. Not only does this come at a fraction of the cost - starting at $84.99 a person - but at two minutes, it also lasts longer than a traditional experience!
Joined by a highly trained instructor who will teach you how to control your body positions, the basic package includes two flys, but you can add on more time, opt for a 'high fly' and purchase pictures and videos, too. The experience is suitable for anyone aged three and up and is loved by beginners to seasoned skydiving experts.
Other experiences on offer include hands-on, fully immersive STEM Field Trips, which teach students the critical science and technology principles behind flying, the specialized Flight School for those aged 4-16, birthday parties and team-building events.
Prepare to be blown away - quite literally!

Book IFly Chicago Lincoln Park today!
Read more about Chicago:
Our Top US Cities: Part 2 - Chicago