vegan food
Around The World In The Best Vegan Dishes
What's better than traveling the world to taste the best variety of vegan food? If you're not vegan, probably quite a lot, but if you are? Stop right there and read our gluttonous guide!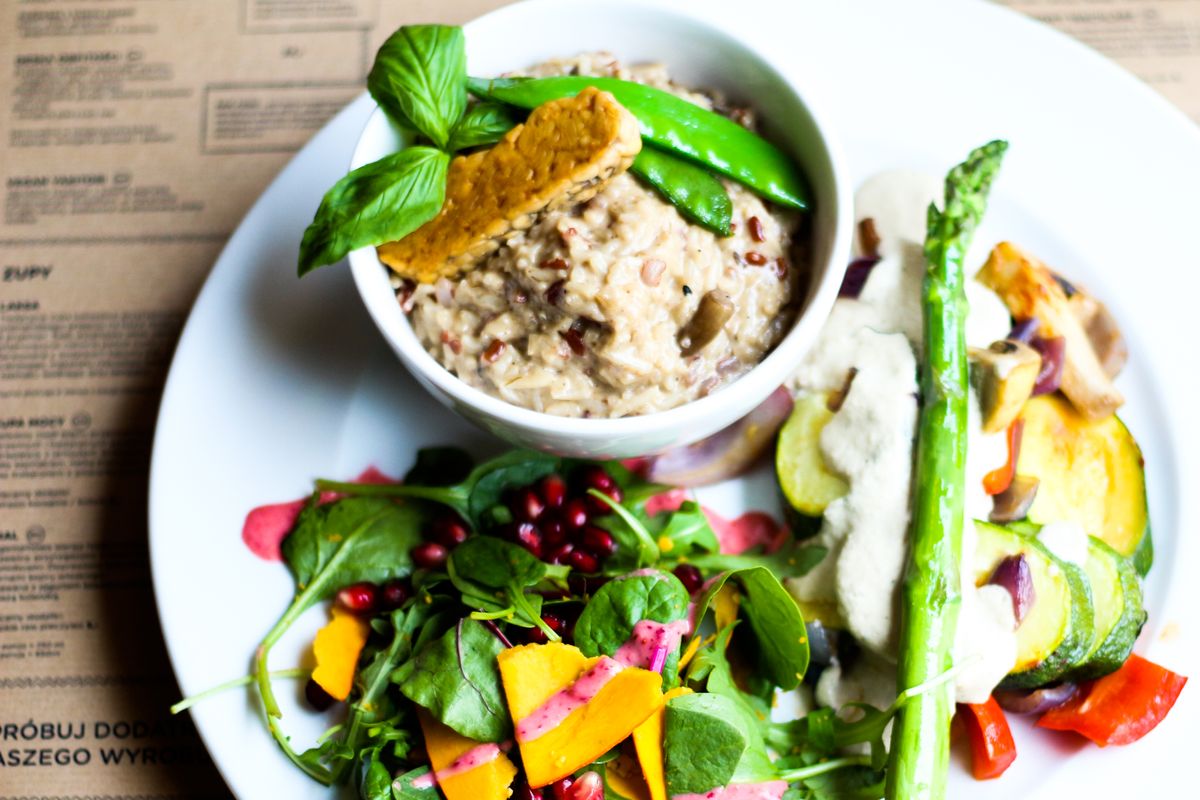 What's better than traveling the world to taste the best variety of vegan food? If you're not vegan, probably quite a lot, but if you are? Stop right there and read our gluttonous guide!
India
The food culture in India is as varied as the country. Here are some of the top vegan options you should know about:
Khichdi. The ultimate comfort food featuring feel-good nostalgia as one of its main ingredients, this spiced rice and lentil dish is cooked with various vegetables.
Dum aloo. Translated as 'potato steam,' this is a traditional Indian dish consisting of potatoes, tomatoes and onions cooked together in a curry or masala sauce. But if it sounds like a simple dish, think again: It takes a lot of time and patience to get it to perfection!
Gobi manchurian. Fried cauliflower (gobi) tossed in a sweet and spicy sauce (manchurian), you've probably eaten this hundreds of times without even realizing it! Simply delicious.
Batata vada. This popular street food is a spiced potato fritter that's dipped in chickpea batter and deep-fried. It's typically served with coconut, tamarind and garlic chutney. You'll even find this as part of a popular Indian sandwich called vada pav, where it's served on soft buns.
Patra. A traditional Gujarati dish that consists of colocasia leaves stuffed with a mix of ingredients such as garam masala, mustard seeds, sesame seeds, turmeric and chili paste, which are then rolled and either steamed or deep-fried.
Aloo matar. Sautéed potatoes (aloo) and green peas (matar) are mixed with tomato sauce and flavorsome spices - including fenugreek leaves, which are known for their health benefits, such as lowering blood sugar - in this popular North Indian dish.
Rajma chawal. A simple dish consisting of red beans (rajma), which have been soaked overnight, and cooked rice (chawal) that's traditionally made with onions and tomato purée.
Bombay sandwich. A medley of vegetables and spices is packed between two slices of crustless white bread - one spread with green chutney and the other with butter - in this traditional Indian sandwich originating from Mumbai.
Avial. Meaning 'cooked,' this dish is made up of brightly colored vegetables, coconut and curry leaves which have - yep, you've guessed it - been cooked together! The story goes that it originated when a king didn't want to see anything wasted, so ordered his chef to make a dish out of vegetable leftovers. Works for us!
Onion Bhajis. Ah, the good ol' onion bhaji! Not much else needs to be said at this point, other than the fact it's seriously moreish (but you knew that already, didn't you?).
Baked Samosas. A healthier version of the usually deep-fried dumplings stuffed with peas, potatoes, peanuts and spices.
It's certainly not hard to follow a vegan diet here!
Can't make it to India just yet? Check out this Indian food tour in London
2. Greece
Gemista. A staple that's found on any Greek menu, this easy vegan rice and vegetable-stuffed dish, drizzled with olive oil and baked in the oven, is colorful, juicy and packed with flavor. It can be eaten hot or cold - in fact, some prefer it straight out of the refrigerator the next day when all the juices have had a chance to absorb properly.
Prasorizo. Sautéed leeks and rice are then simmered until properly cooked. It's typically eaten as a main dish and is delicious with some feta cheese on the side!
Fasolada. A simple Greek soup - eaten throughout the year but traditionally during Lent - made from dried white beans that are drizzled with olive oil and eaten with herbs and vegetables, such as onions, celery and tomatoes.
Get yourself a private chef in Santorini
3. Armenia
Lavash. A simple bread that's been around forever and is used in many traditional Armenian dishes.
Basooc dolma. Cabbage leaves wrapped around chickpeas, rice, vegetables and herbs.
Zhingyalov hats. A flatbread stuffed with green mountain herbs that's so well-loved that there's even a festival dedicated to it!
4. Portugal
While notorious for being somewhat meat and fish-heavy, Portugal is finally having a bit of a vegan moment. As well as a smattering of new vegan or vegan-friendly restaurants which have popped up around the country, you'll also be able to find some 'accidentally vegan' dishes such as:
Sopa de legumes. A cheap and cheerful vegetable soup!
Caldo verde. Another soup made with potatoes and dark leafy greens - just make sure you request it without the chunks of chouriço sausage normally added at the end!
Peixinhos da horta. Don't be misled by the name, which literally translates as 'little fish from the garden.' There is certainly no fish in this dish, which is instead made up of battered and fried green beans.
Milho frito. These small, fried cornmeal squares are a traditional Portuguese specialty that's usually enriched with thinly sliced cabbage, garlic and a variety of fresh herbs.
Book a stay in the Carmo Boutique Hotel Portugal
5. Sri Lanka
Parippu curry. You'll find this delicious vegan dish - made from red lentils, coconut milk, onion, chili, garlic, curry leaves and spices - just about anywhere in Sri Lanka.
Gotu kola sambol. A herby coconut salad paired with rice and spice!
Visit the ancient kingdoms and Buddhist temples on this four-day tour
6. Indonesia
Between the endless acai bowls and avocado toast on offer in almost every café, vegan tourists will be spoilt for choice wherever they go. A special mention must also go to:
Gado Gado. This peanut-packed dish consists of fresh vegetables, rice and a chili-peanut sauce that's often topped with tofu. Deeeelish.
Tempeh. This protein-rich soy product hails from Indonesia but is popular worldwide and can be eaten in a myriad of different ways and as part of different dishes. Tempe bacem is tempeh that's been marinated in coconut milk and bay leaves before being boiled with a spicy paste and deep-fried, while Tempe orek is sliced tempeh that's stir-fried with Indonesian soy sauce and various other ingredients such as sliced chili peppers, onions, garlic, tamarind juice and palm sugar.
Ketoprak. A traditional Indonesian street food that's often described as tofu salad, consisting of fried tofu, steamed rice cakes, vermicelli noodles, bean sprouts, cabbage and cucumbers - topped with shallots and served with a peanut and sweet soy sauce.
7. Costa Rica
Gallo Pinto - also known as rice and beans - is more than what it says on the can. Throw in some red peppers, onion, black pepper and garlic before topping it with salsa and fresh cilantro, and you'll be hit by a punchy medley of flavors.
Book a stay in the Hyatt San Jose, Costa Rica
8. Slovenia
Sataraš is a vegetable stew made from tomatoes, peppers, onions, garlic and parsley, which are first fried and seasoned before being gently stewed.
Read more: Are Slovenians friendly? & everything else that makes Slovenia a top travel destination!
9. England
Beer-Battered Tofu Fish and Chips. Replace the fish with tofu and nori (to maintain the taste of the sea) and ta-da! You don't get more British than that.
Cornish Pasty. Try this vegan take on the national dish of Cornwall that's just as good without meat (really!).
10. Poland
Soparnik. A simple vegetable pie made with chard and red onions that's baked in a bed of hot coals covered with ash before being brushed with olive oil and sprinkled with crushed or finely chopped garlic.
Zapiekanka. These Polish Baguette Pizzas are topped with fried vegetables and grated vegan cheese.
11. Turkey
Kizartma. Fried vegetables - usually potatoes and chili peppers - are served with a thick sauce made from tomatoes, garlic, parsley and olive oil. A perfect picnic treat!
Imam bayildi. You'd expect a dish called 'the Imam fainted' to be memorable - and you'd be right! Here, eggplants are sliced to resemble long canoes and are filled with onions, red peppers, garlic and tomatoes that have been generously sautéed in olive oil and flavored with oregano, cumin, paprika and lemon juice. Once baked in the oven, you can enjoy this hot or cold, ideally paired with a glass of yogurt.
12. China
Buddha's delight. A popular dish consisting of a wide range of vegetables, such as bamboo shoots, mushrooms, carrots and water chestnuts, which are cooked in soy sauce and spices until tender. Originally a staple of Buddhist monks who were practicing vegetarians, today it is an international dish satisfying vegans worldwide.
Sauerkraut. No, we haven't got our countries mixed up! Despite being a German word, sauerkraut - or suān cài/xiān cài - was eaten by the laborers who built the Great Wall of China over 2000 years ago, where it's thought to have originated before being brought over to Europe in the 13th century.
Staying a little closer to home? Book this SF Chinatown Food Tour
13. Nigeria
Ground beans or black-eyed peas join onions, freshly ground peppers and oil in Moin moin - a popular dish that's usually served with jollof rice and is so well-loved that it's regularly served at celebrations.
14. Nepal
Dal bhat is a staple of a Nepalese diet that combines rice (bhat) and lentil soup (dal) and is served with a variety of side dishes, such as spicy chutneys, crisp flatbreads (papadamu), South Asian pickles and sliced fresh vegetables.
Read more: The Best Travel Destinations: Nepal
15. Iran
All you need to know about Zeytoon parvadeh is that it counts potted olives, pomegranate seeds and molasses, ground walnuts, garlic, fresh herbs and olive oil as its ingredients and is best enjoyed with lavash bread. We don't know about you, but we're off to find some, pronto!
16. Egypt
The incredible thing about the breakfast food, Ful medames, is not that it's a mouthwatering medley of slowly simmered fava beans, seasoned with olive oil, lemon juice, garlic and spices (although can we please take a moment to appreciate this?), but that remnants of it were found in some of the Pharaohs' tombs, meaning it must have been a seriously popular culinary dish!
Book a Sharm El luli Marsa Alam Egypt snorkeling tour
17. Japan
Sekihan. Just two ingredients - rice and red azuki beans - make up this traditional Japanese dish, which - thanks to the red hues - is seen as a symbol of good luck. This is why you'll find it served on special occasions, such as birthdays and weddings.
Aburaage. Or, deep-fried tofu, to you and I, complete with a pocket in the middle, similar to a golden-brown, puffy pita bread. It can be eaten plain or stuffed and used as an accompaniment to noodle soups.
Book a 7-day Japan highlights tour
18. Mexico
Arroz verde. A rice dish that's made like pilaf and includes both peppers and coriander.
Vegan nachos. The ideal Mexican snack goes rogue yet holds its own sans meat and with vegan cheese.
Tacos. Filled with any kind of plant-based goodies you can think of and topped with the most exciting of salsas. Yes, please!
Thinking about spending some time in a beach club while here? Find out why we love Mr Anchos
19. Italy
Carciofi alla giudía. These crunchy, deep-fried artichokes are a classic side dish that hailed from Europe's oldest Jewish community - the ghetto of alla giudía. Marinated in lemon water for a few hours before being seasoned with salt and pepper and fried in olive oil until crispy, this dish, best made with Romanesco artichokes, is an assault on all your senses - in the best way possible. Book a Rome secret food tour
Peperonata. Colorful peppers cooked in a tomato-based sauce make up this rustic side dish.
Arancini. Risotto balls filled with vegan mozzarella and rice.
20. Tanzania
Mchicha - a thick and creamy meal made from leafy vegetables, grated coconut, coconut milk, peanut butter, tomatoes and onions - is one of the most popular Tanzanian dishes and is best served with rice or beans.
21. Spain
Tombet. A traditional Mallorcan vegetable dish consisting of baked layers of aubergines, red bell peppers and potatoes, which have been fried in olive oil. Join an olive oil-tasting Mallorca
Patatas a lo pobre. This simple Andalusian side dish is made with sliced potatoes, onions, peppers and garlic and fried in olive oil and wine vinegar. It may literally translate as 'poor man's potatoes', but you'll be feeling anything but when you taste this!
Gazpacho de mango. Mangoes, cucumbers, tomatoes, peppers, chili, onions, shallots and garlic come together to make this cold, refreshing soup that's flavored with juice or vinegar, spices and herbs.
Samfaina. Originating from Catalonia, this take on the French ratatouille is made with eggplant, tomatoes, onions, peppers and olive oil.
22. Morocco
Bessara. Puréed beans seasoned with olive oil, lemon juice, garlic, paprika and cumin and served with crusty bread.
Zaalouk. A traditional Moroccan salad made with cooked eggplant, tomatoes, garlic and spices. Served on its own, as a side dish, a filling for sandwiches or as a dip.
Matbucha. A favorite in Israel, despite originating in Morocco, this meze is made up of roasted peppers and tomatoes and seasoned with garlic and paprika. Drizzle with olive oil and eat with a warm flatbread - yummy!
23. Georgia
Ajapsandali. This popular stew consists of eggplant, potatoes, tomatoes, onions and bell peppers which have been seasoned with bay leaves, garlic, coriander, salt, and black pepper. Enjoyed both hot and cold - especially with crumbled feta and chunks of bread.
Badrijani. A heavily-spiced dish made from eggplant slices that are coated with walnut paste and fried before being topped with pomegranate seeds.
24. Jamaica
Having possibly one of the coolest names on the list, Festival is a crispy Jamaican dumpling that's enjoyed with mango coleslaw.
Go bamboo rafting on the Lethe River Jamaica, followed by a lime stone massage
25. South Korea
Sigeumchi namul. Blanched spinach mixed with garlic, scallions, sesame oil, toasted sesame seeds and soy sauce. Best enjoyed with steamed rice.
Ogokbap. Made up of five-grain rice, this nutritious dish is believed to bring good health and fortune.
Boribap. Steamed rice and barley served with fermented soybean and a variety of side dishes.
‌‌
Helloooo plant-based diet! So … which will you try first?
‌‌‌‌Read more: