royalton hideaway st lucia
The 46 Best Adult-Only All-Inclusive Resorts
Kids are great and all, but sometimes an adult-only getaway is just what the doctor ordered. Make your dream a reality and choose from the following bucket-list-worthy vacation packages --->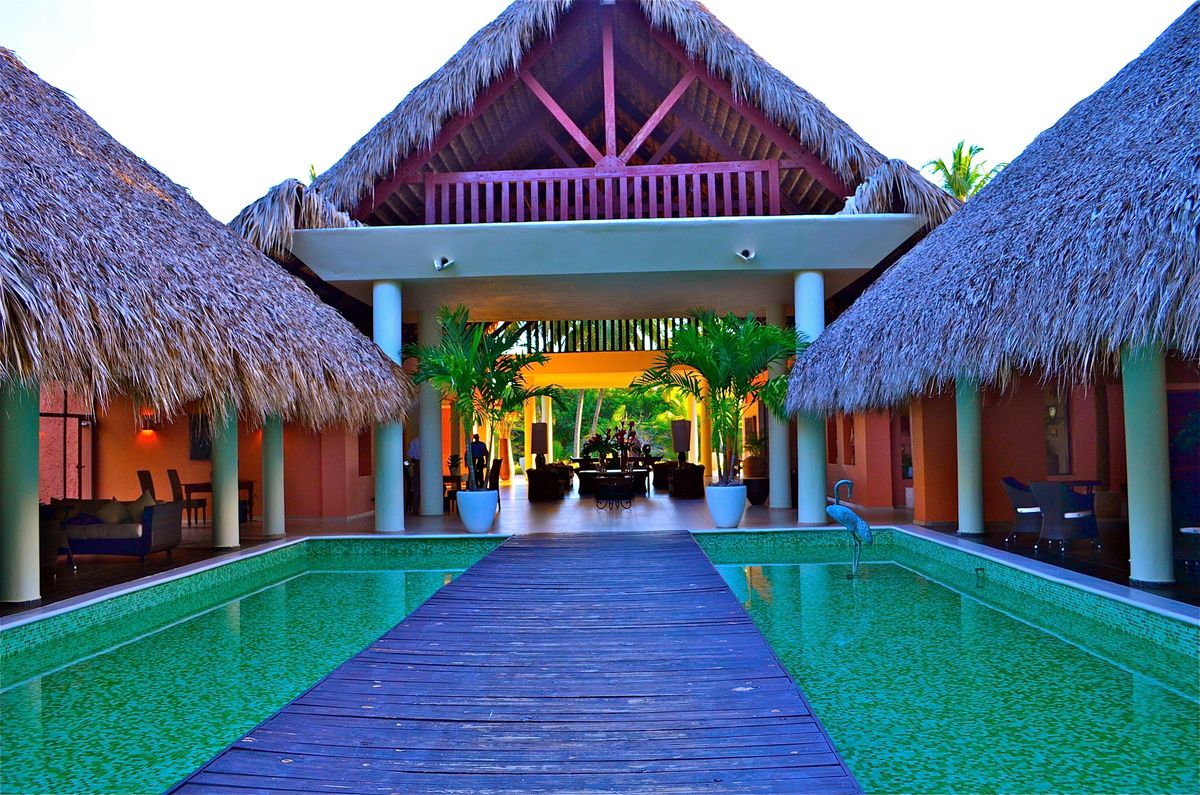 Image: Studio Sarah Lou, Flickr
Kids are great and all, but sometimes - just sometimes - an adult-only getaway is just what the doctor ordered. Make your dream a reality by kicking back with a cup of coffee (or, y'know, something a bit stronger), and choose from the following bucket-list-worthy vacation packages:
The Palms, Zanzibar
This African wonder - courtesy of the endless water sports and silk-draped beaches of the Azure Sea - oozes a luxury-defining romance like no other.
There are seven villas available, each with a private pool, bedroom, living room, and en-suite bathroom. Wi-Fi and satellite TV are included, and the views are stunning. Also included are all food, drink and non-motorized water sports, while other extras include a tennis court, tropical garden and fitness center.
Check out the Secret Garden Zanzibar
2. Cocos Hotel, Antigua
Located on one of the island's most beautiful white sand beaches, this boutique option comprises 34 clifftop cottages, all equipped with hammocks, outdoor showers and fresh flowers left in your room daily. Soaking up the sunset while sipping the all-inclusive champagne from the comfort of your cottage? Hell, yeah!
Between the spa, extensive collection of board games and steel pan drum and cooking classes, you'll be spoilt for choice choosing how best to spend your time here.
All meals - boasting organic international cuisine - are wait-served, so you can live like royalty for the duration of your stay!
3. Galley Bay Resort & Spa, Antigua
This sprawling Caribbean property is set atop a breathtaking beach and surrounded by lush tropical gardens. Soaking tubs and ocean views add a dose of luxury. A variety of à la carte restaurants offer everything from a classic barbecue to fresh seafood, while a whole host of fun-filled water sports and open-air spa - with treatments such as a Tropical Fruit Wrap and Coconut Cocoon - offers a twist on the classic experience.
4. Pineapple Beach Club, Antigua
The picture of perfection, you'll spend your days swimming in the on-site pools, sampling traditional Caribbean cuisine and snorkeling - it's all included!
Get from Guatemala airport to Antigua
5. Hurawalhi Island Resort, Maldives
The resort is best known for its stunning setting and luxurious amenities, including overwater villas and in-water hammocks. However, its biggest draw is probably its underwater restaurant, the largest in the world!
When you're not treating yourselves to this once-in-a-lifetime experience (not included), you'll be left perfectly satiated by the all-inclusive meals, drinks and snacks on offer here. Also included in your stay is a sunset dolphin cruise, snorkeling tour, windsurfing lesson, yoga classes and use of the fitness center, tennis courts and football grounds - phew! Where do we sign up?
6. Komandoo Maldives Island Resort, Maldives
Whether you choose a Beach Villa, Jacuzzi Beach Villa or Jacuzzi Water Villa, you'll enjoy a range of luxury amenities amidst the striking private, white-ringed islands and most translucent turquoise water of the Maldives.
Head to the pampering spa for couples' treatments, enjoy a meal in the underwater restaurant, go scuba diving, take part in a yoga lesson and check out the crown jewel of the resort - the beachfront infinity pool with food and drink. This is probably one of the best honeymoon spots on the whole list. Read more: Thinking About Marriage? Here's Our Proposal For The 23 Best Places To Ask!
7. Kandolhu Maldives, Maldives
This romantic resort combines modern architecture with the natural beauty of the Maldives for the most unforgettable experience. The resort is located on a private island with a lush emerald green landscape and a vibrant coral reef. The resort offers five gourmet restaurants, crystal-clear waters, and private decks with views of the sunset each day.
With only 30 villas accessible by boat or plane, you're in for a heavy dose of tranquility.
8. Centara Ras Fushi Resort & Spa, Maldives
A string of huts with private porches and views of the Indian Ocean should suit you nicely!
For a non-all-inclusive option, check out Robinson Maldives - adults only
9. Sandals Barbados, Barbados
This all-inclusive mega-resort includes unlimited dining at the 11 (!) on-site restaurants, drinks at the eight lounges and bars, all water and land sports and even a free wedding, if your vacation goes really well!
There are 280 suites across 14 categories, including swim-up rooms and those that include the resort's outstanding butler service.
10. The House, Barbados
While a sparkling beachfront setting is home to the 34 rooms, the thoughtful touches, such as champagne breakfasts, afternoon tea, a jet-lag massage on arrival and 24/7 service, really make this one stand out.
For the smoothest airport transfer, choose Fast Track Barbados
11. Likuliku Lagoon Resort, Fiji
Your five-star luxury bungalow will either be overwater, scented with tropical flora and salty sea breeze, or on land, complete with garden coconut grove or lagoon vistas. All food is included, as are non-motorized water sports.
12. Royal Davui Island Resort, Fiji
Glass doors, sun decks, plunge pools and panoramic views of the palm-fringed landscape await in this adults-only sanctuary.
The resort has a limited number of villas and suites, each with its own Jacuzzi spa bath and private plunge pool. This promises guests a luxurious and tranquil getaway that is truly a dream come true.
Champagne breakfasts are available on a private beach before enjoying a day of water sports among the colorful marine life and finishing with a luxurious spa treatment and fresh fish dinner. Also included are sailing trips, cooking classes, guided reef tours, beach games and local entertainment.
13. Zoetry Paraiso de la Bonita, Mexico
This romantic, wellness-centric boutique experience in the Riviera Maya offers various suites, such as Terrace Suites with small indoor gardens and Plunge Pool Suites. Also included are bottles of champagne, daily tequila,  a catamaran sunset sail and private chauffeured airport transfers.
14. Le Blanc Spa Resort Los Cabos, Mexico
If you're looking for a week of pure indulgence, stop right here. This luxury property comprises ultra-chic, opulent spaces and includes gourmet à la carte dining, premium alcohol and complimentary hydrotherapy in the spa.
15. TRS Coral Hotel, Mexico
Expect fine dining at its absolute best, inventive beverages and cabaret shows amidst a seriously stunning beach.
16. Grand Velas, Mexico
This five-star oceanfront option is famed for its fantastic facilities, delicious food and top-notch service. You'll enjoy Caribbean sunsets from your private terrace and plunge pool and a rejuvenating spa like no other.
17. Casa Velas, Mexico
This hotel has a sparkling pool, surrounded by palm trees, offering a luxurious oasis away from the beach. On-site restaurants use fresh local ingredients and organic produce, while a luxury spa, fitness center, beauty salon, golf course and - wait for it - a handbag bar, where guests can loan a designer bag for free, are all available too. Guests also have complimentary access to the nearby beach club and all the facilities and amenities at the Grand Velas Riviera Maya.
18. El Dorado Casitas Royale, Mexico
Beautifully spacious oceanfront suites - complete with private balconies, outdoor showers and hot tubs - are yours when you book a stay at this romantic resort. Other features include 14 swimming pools, a lazy river, multiple swim-up bars, 13 restaurants, 17 bars, a spa, water sports, horseback riding, archery, wine tastings, Spanish lessons and fitness classes! For something a bit unique, you'll also love the Temazcal - a Mayan sweat lodge - which offers indigenous spa treatments.
19. Secrets Akumal Riviera Maya, Mexico
The calm Caribbean waters and cute sea turtles make for a snorkelers' haven on the stunning white sands of one of Mexico's top beaches. Spacious suites, three pools, two hot tubs, delicious dining, exciting bars, a full-service spa and a range of on-site activities, such as water sports, tennis, archery, dance classes, golf and Spanish lessons are all included, too.
20. Marquis Los Cabos, Mexico
This contemporary beachfront resort - comprising lavish and spacious suites amidst a rugged mountain landscape - offers five dining options, a 13,000-square-foot spa and three pools. Also included is a range of activities and entertainment, such as tennis lessons, dance lessons, cookery classes, archery, outdoor movies, live music performances, fire performers, circus acts, Mexican dancers, a burlesque cabaret show and tequila tastings! Oh, and if that wasn't enough, fresh pastries are delivered to your room every morning - yum!
Looking for an all-inclusive option with kids? Check out Mr Sanchos Cozumel Mexico
21. Excellence Playa Mujeres, Mexico
This private resort is located in the northern part of Cancun and boasts enormous rooms with ocean-view balconies and whirlpool tubs. Those who want to pay more can also enjoy swim-up access and private plunge pools. If you choose the honeymoon package, you'll be spoiled with private dinners on the beach and champagne breakfasts in bed!
No matter which you opt for, however, you'll enjoy multiple pools, lazy rivers, water sports, a wide selection of culinary experiences (and exciting drinks!), a long list of luxury treatments at the on-site spa (couples massage, anyone?), access to the fitness club, various classes, nightly entertainment and unparalleled service throughout.
22. Le Blanc Spa Resort, Mexico
All-inclusive perks at this sleek and chic picturesque pick include 24-hour room service, all meals and drinks at the on-site restaurants and bars, a double whirlpool tub, a butler service, stunning pools, private beach cabanas, hydrotherapy at the decadent spa, water sports, swimming with dolphins, golf and daily fitness classes - along with the naturally lavish surroundings made up of bright blue waves and white sand.
23. Haven Riviera Cancun, Mexico
This prime oceanfront gem offers elegant suites with either ocean or garden views. Each suite comes with five-star amenities like whirlpool tubs, aromatherapy menus, private balconies, and swim-up access.
The culinary experience in this area is top-notch, ranging from gourmet restaurants to casual beachside dining. There's something for everyone! You'll also have pampering spa treatments, swimming pools (with two swim-up bars!), yoga classes, a fitness center, water sports, after-dinner cocktails and cabaret. Golfing and horse riding are also available here.
Check out the Cancun airport lounge
24. Live Aqua Beach Resort, Dominican Republic
This five-star haven for beach lovers is a thing of beauty. And - with double rain showers, an in-room Jacuzzi tub, a bed on the balcony, lush gardens, multiple pools, an array of water sports, yoga classes, a variety of international-themed restaurants, fresh fruit smoothies and live entertainment (all included) - you won't want to leave.
Upgrade your stay by booking a suite and enjoy an infinity pool, couples' massage and discounted spa treatments!
25. Excellence Punta Cana, Dominican Republic
Elegant rooms on a white-sand beach await at this deluxe resort, which includes all meals, drinks and snacks from the multiple dining options, water sports, yoga classes and spa treatments. Expect sensational views of the sparkling water from the comfort of your private veranda and whirlpool tubs - bliss!
Also available here is a classic horseback ride along the coast and a moonlit massage.
26. Sanctuary Cap Cana, Dominican Republic
Overlooking the dazzling Caribbean sea, this exclusive resort - all the better following a multimillion-dollar renovation in 2018 - comprises a spectacular collection of suites, five restaurants, six swimming pools, seven bars and lounges, a world-class spa, a ZEN garden, hydrotherapeutic pools and access to a breathtakingly beautiful white sand beach. Nightly entertainment, such as cocktail parties and a live piano bar, is also included.
27. Hyatt Zilara Cap Cana, Dominican Republic
It's hard to number all the incredible amenities on offer here as there are just so many, but we'll give it a go! A water park, infinity pools, swim-up bars, underground spa, fitness center and 25 (!) restaurants and bars await in this sleek and spacious adult-only resort. Yoga classes, water sports, golf and nightly entertainment are also available.
28. Secrets Cap Cana, Dominican Republic
Nestled in an exclusive gated community on one of the Dominican Republic's most breathtaking beaches lies this incredible option known for its incredible food and impeccable service.
Relax on the sugar-white sand, snorkel in the clear blue waters, soak up the views from the infinity pool, indulge in the nine restaurants and spend time in each of the six bars, which include a swim-up bar, theater bar and music lounge. This is truly heaven on earth.
29. Meliá Punta Cana Beach Resort, Dominican Republic
Framed by golden sand, turquoise waters and tall palm trees, this offers the perfect escape from the daily grind. As well as a host of water sports, you'll also love the Wellbeing 360 Experience - a collection of rituals and activities while - when it comes to meals, you can choose from seven dining options for an extensive culinary experience or opt for a romantic beach meal under the stars. The only rule is that there are none!
Party the night away at Coco Bongo Dominican Republic!
30. Jade Mountain Resort, St. Lucia
This majestic property is nestled in the mountains and offers sweeping coastal views. It features eco-friendly suites with giant four-poster canopy beds, whirlpool tubs, in-room infinity pools and 24/7 butlers. You'll soon see why this regularly tops the best adult-only all-inclusive resorts in the world.
Meals, drinks, water sports, land activities, access to the fitness studio and spa, yoga classes, sunset cruises and a visit to the resort's organic farm are all included in the rate.
Find out about ATV tours St Lucia
31. Sandals Grande St. Lucian, St. Lucia
Overwater bungalows with glass floor panes and lit water ensure an intimate connection with the rich marine life of the Caribbean like nowhere else. You and your partner will also love the outdoor Tranquility Soaking Tub, overwater hammock, 12 on-site restaurants and a vast assortment of land and water activities.
32. Hideaway at Royalton, St. Lucia
Palm-lined beaches, majestic mountains and wondrous waterfalls await in this tropical paradise offering gourmet cuisine, artfully prepared cocktails, an array of activities and endless entertainment.
Love the sound of Royalton Hideaway St. Lucia? Book a stay at St Lucia Hideaway
33. Couples Tower Isle, Jamaica
This private island features 24 rooms, white sand, and calm waters, making it the perfect romantic getaway. This five-star resort includes six restaurants, five bars, four swimming pools and Jacuzzis, water sports, a full-service spa and fitness facilities.
Book a Couples Tower Isle airport shuttle
34. Secrets Wild Orchid Montego Bay, Jamaica
This sprawling adults-only resort is a solid choice for all you lovebirds! Offering an extensive list of premium facilities such as multiple restaurants, bars, a luxury spa, a movie theater, a shopping center, water sports and dance and cooking classes, you won't be short of ways to while away the days with your other half.
35. Excellence Oyster Bay, Jamaica
This luxurious, yet non-pretentious, Victorian-style resort is set atop a private peninsula surrounded by gleaming water and mangrove-filled lagoons. It offers multiple restaurants and bars, five swimming pools, and a premium spa with a relaxing hydrotherapy circuit. The spacious suites also include private terraces with hot tubs or pools.
36. The Caves, Jamaica
Exuding a classy romance like no other, this world-famous resort overlooks the glimmering turquoise waters of the Caribbean. Intimately made up of just 12 cottages - all uniquely designed to take advantage of its cliffside location - you'll enjoy candle-lit cave dinners, a saltwater swimming pool, a 24-hour rum bar (yes, please!) and an impressive spa.
37. Sandals Royal Plantation, Jamaica
Come here for Sandals' only all-suite, all-butler resort, offering a quiet getaway with drinks by the pool, a game of golf, a spot of pampering in the elegant spa, some indulging at Jamaica's only champagne and caviar bar and an English-style afternoon tea on the terrace!
38. Sunset at the Palms, Jamaica
This Jamaican getaway has tree house-style rooms that create a quirky jungle vibe. You can also enjoy a swim-up bar and after-hours entertainment in the form of a cocktail party.
39. Hedonism II, Jamaica
Hooray for the first nudist offering on the list! While ditching the clothes is certainly not mandatory, if being at one with nature is your vibe, you should definitely check this one out. As well as all the usual perks of an all-inclusive resort, such as bars, restaurants, pools and water sports, you can also expect some more, ahem, X-rated entertainment. Remember, no kids allowed!
Book a chairlift ride through the Jamaican rainforest
40. Sandals Grenada, Grenada
This all-inclusive couples-only resort, sitting on acres of landscaped grounds, is home to a state-of-the-art spa, multiple pools - complete with waterfalls, lagoons and swim-up bars - ten restaurants serving an array of international cuisine, six bars, nighttime entertainment, water sports, a fitness center, tennis courts, firepits, gazebos, swinging chairs, personalized butler service, airport transfers and romantic hideaways! And yes - this is ALL included!
We promise a level of luxury here that's hard to rival.
Book a stay at Sandals St George
41. Warwick Paradise Island, The Bahamas
An upscale, tropical and tranquil oasis offering delicious dining and cocktail options, a huge lagoon pool, a luxurious spa, sports facilities and the best views of Nassau Harbor from the resort's massive Sunset Terrace.
The fantastic thing about this option is that you can either soak up the serenity or take advantage of its close location to outside amenities such as a golf course, casino and shopping centers. Quite simply, the definition of paradise.
42. Mayia Exclusive Resort & Spa, Greece
Our first (and only!) European offering is set along the jaw-dropping Aegean Sea and offers elegant oceanfront suites. Two beach pools, a number of dining venues and bars and a full-service spa are all on the menu in this luxurious resort.
43. Alila Ventana Big Sur, California
This all-inclusive resort is for adults only and offers rustic luxury. It has a range of activities, including bike tours, meditation, forest bathing, star gazing, hiking, spa treatments and gourmet cuisine. Two outdoor heated pools, a hot tub, Japanese baths and a fitness facility are on site, too.
Book an everyday California kayak
44. Chiva-Som, Thailand
If you're looking for more of a wellness retreat, this might just be the one for you. On arrival at this dreamy beachfront location, you'll be greeted with a health-oriented survey to help hone in on your aims for the vacation, and throughout your stay, you'll be treated to a full butler service, private Jacuzzis, fitness, yoga and meditation classes, a wellness sanctuary (with one treatment per person per night of stay!), fine dining and fresh fruit goodies from the on-site gardens.
Read more: Which Thailand Island To Visit?
45. Sensei Lanai, Hawaii
Your enchanting experience on this beautiful island begins with a Sensei Guide pairing - basically your own personal wellness butler - who will customize your stay using cutting-edge health technology to ensure you maximize your rejuvenation goals. Meditations, massage and daily exercise are all part of the menu, as is the delicious on-site Nobu.
Book a Hawaii glass bottom boat cruise
46. Sonesta Ocean Point, St. Maarten
A fantastic LGBTQ+ option - not always easy to find in the Caribbean - this is the ideal spot to soak up some of the most breathtaking views with your loved one. Boasting three pools, three restaurants, four bars, a state-of-the-art fitness center, an open-air wellness area and private cabanas, the resort also offers same-sex wedding ceremonies!
So, which of these all-inclusive vacations will you choose?