aid
What Can I Do For World Humanitarian Day?
We talk a lot (okay, okay - all the time) about your next best vacation, but this World Humanitarian Day, why not plan a volunteering stint in any of these worthy destinations --->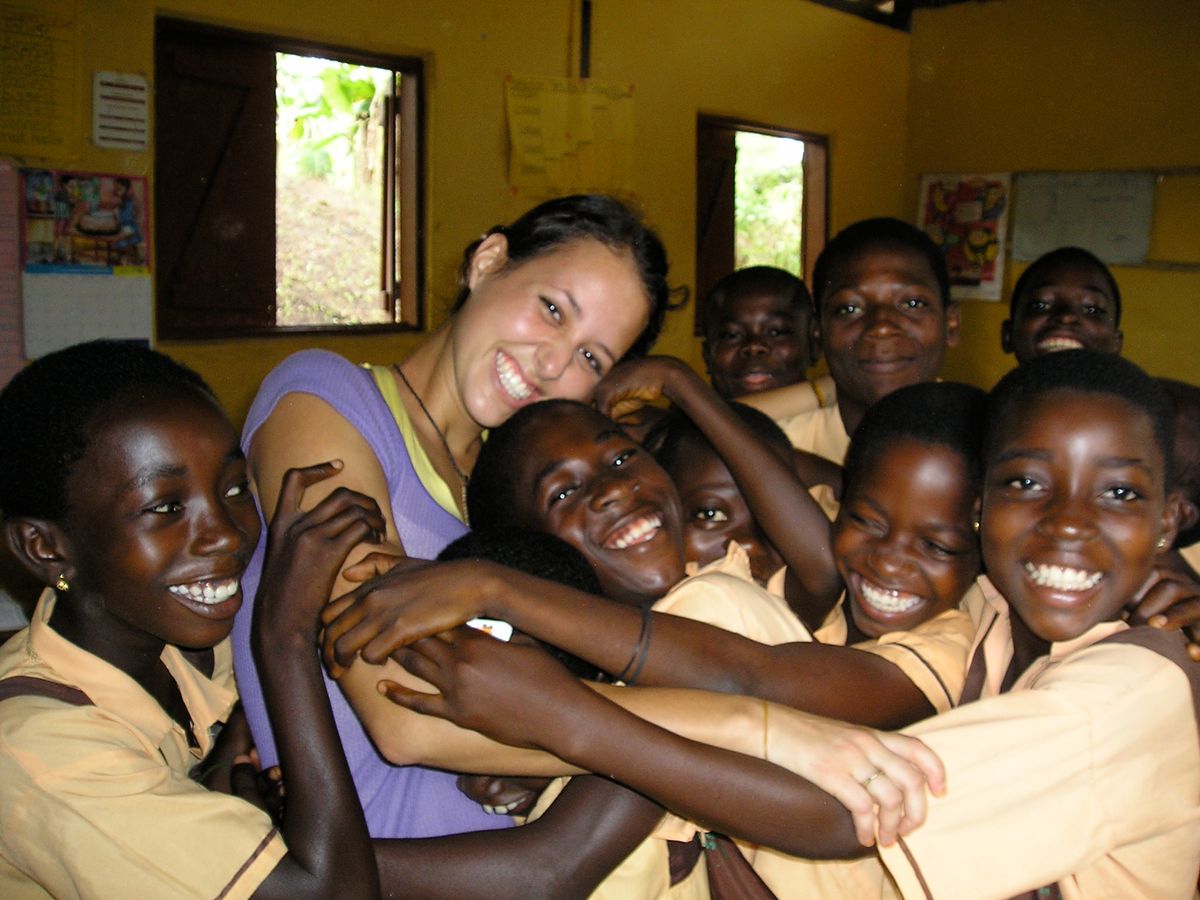 Image: Lattitude Canada, Wikimedia
We talk a lot (okay, okay - all the time) about your next best vacation - usually a heady mix of sun, sea and sand, with some awesome activities thrown in for good measure. But this World Humanitarian Day, why not plan a volunteering stint in any of these worthy destinations:
South Africa
Volunteering in South Africa is a popular choice for travelers who want to make a difference. There are many easy-to-access recreational activities such as surfing, hiking and safaris. Here are just two examples:
Cape Town. Underneath its touristy surface lies the perfect way to leave an impact, courtesy of an NGO problem-solving session hosted by a local changemaker or startup. A percentage of every booking goes directly back into equipment, bursaries and cash grants. Book your session here
Kruger National Park. The conservation project among all conservation projects: Live among the 'Big Five' while learning how best to protect their incredible home - Africa's biggest and most iconic game reserve.
There are, of course, endless other volunteering opportunities here, too, whether it's education, youth development or rural development you're looking to get stuck into!
2. Victoria Falls, Zimbabwe
Backdropped by breathtaking views of a zebra-filled savannah, you could do a lot worse than choosing Zimbabwe as the location for some humanitarian work. You can help to improve the relationship between local communities and give teaching assistance to rural schools. Like South Africa, you can also join a wildlife conservation volunteer program.
3. Zambia
Volunteering opportunities here range from construction and health to caring for the young and old.
A standout mention - of course - goes to the extensive conservation efforts you can join in helping to protect the vulnerable and endangered wildlife, such as lions, hippos and elephants, illegally poached for ivory and bushmeat.
Glide over the rapids on the epic Victoria Falls bridge slide for a bit of downtime after!
4. Kampala, Uganda
One of the best ways to provide humanitarian assistance is on a travel safari in Kampala, Uganda, offering a once-in-a-lifetime mix of aid and adventure. Work to improve the lives of poor communities and endangered animals while you hike up mountains and get intimate with gorillas - there's nothing like it anywhere else in the world.
5. Kenya
If you want to help empower women through education, Kenya is a great place to do so. There are many centers in Kenya that focus on supporting women who are affected by HIV/AIDS. Here, you can help them learn invaluable skills such as sewing, tailoring and candle and jewelry making, as well as provide access to finance and small business management courses.
When you stay with a local family, you'll learn about Kenyan culture firsthand. You'll experience their food, language and traditions and get a true sense of what life is like in Kenya.
Come the weekend, you'll be free to explore the stunningly varied landscape of the country, relaxing on the white sandy beaches or getting stuck into an authentic African safari. The opportunities are endless!
6. Tanzania
You can choose to combine a volunteering program with a safari tour in this naturally beautiful country - home to both Mount Kilimanjaro and some of the finest wildlife the world has to offer.
Opportunities range from animal welfare and childcare to women's education - and everything else in between.
7. Zanzibar
This beautiful, off-the-beaten-track part of the world is perfect for animal lovers who want to help the planet. It has stunning beaches, amazing wildlife and a rich culture. Stay in a beachside bungalow and help regenerate wild turtles or opt for a rustic forest camp where you'll join a Rainforest & Coastal Conservation project focusing on monkeys, snakes and lizards.
8. Ghana
Ghana is a popular destination for volunteers, especially those interested in empowering women. There are many opportunities for education and leadership development, and the country is safe and stable. Here, you can help teach women the necessary skills and knowledge to join the workforce and become self-sufficient.
9. Morocco
With a range of volunteering projects centered around teaching and education, travelers seeking an authentic cultural experience will lap up the fusion of European, African and Middle Eastern influences in this unique melting pot.
10. Costa Rica
Costa Rica is the perfect destination for any type of trip, especially if you want to do some volunteer work. With its world-famous beaches, rainforests and volcanoes, Costa Rica is an unbeatable destination.
Costa Rica is a popular destination for volunteers, with many opportunities for turtle conservation, teaching, and healthcare.
Book yourself onto the 12-day Naturally Costa Rica program
11. Guatemala
Mayan cultural immersion, eco-agriculture on a local coffee farm or an educational project in the bustling city of Antigua; the incredible landscape of Guatemala made up of colonial towns, ancient ruins, quaint villages, volcanoes, rainforests and lakes offers the ultimate adventure.
Check out the Guatemala chocolate museum!
12. Mexico
From rainforest conservation to social advocacy, this Central American country offers it all when it comes to volunteering.
Treat yourself to a day at Mr. Sanchos in Cozumel
13. Peru
Thanks to the spectacular mountains, beaches and wildlife that call it home, Peru has always been a popular choice for travelers interested in conservation. From water sanitation to sustainable farming practices, you won't regret picking Peru.
14. Ecuador
Home to the world-famous Galapagos Islands, Ecuador is a top choice for those interested in environmental and wildlife conservation projects. You can work alongside locals to help with reforestation, monitoring animal behavior and even helping release them back into the wild.
Conservation aside, you can also choose from various other projects such as teaching English and NGO support.
15. Buenos Aires, Argentina
The breathtakingly beautiful Argentina continually draws travelers from all over the world - especially those who want to leave their mark by helping with childcare, construction, healthcare, special needs and the elderly.
Here is also one of the best places to join the gold standard accredited TEFL course for teaching English abroad.
16. Belize
Ah, beautiful Belize. We've made no secret of our love for this place, which you can read all about here, but coupled with the incredible volunteering opportunities available here, this is a simply unmissable destination.
You will receive training to help local marine biologists preserve endangered marine life. This will include gathering data, conducting surveys, setting sustainable fishing limits, removing invasive species, and participating in beach clean-ups.
Of course, all this entails countless scuba dives each week, meaning you'll get up-close and personal with sharks, turtles and a whole host of other underwater life! It's a hard job, but someone's got to do it, right?
17. The US
Closer to home, you can still support local organizations and NGOs that work to empower marginalized communities and help some of the most important environmental causes.
You can find popular programs in San Diego, New Orleans, Philadelphia and Chicago, enabling you to gain a new cultural perspective without leaving the country.
Read more about New Orleans and Chicago
18. Canada
Home to a range of animals, including beavers, mooses and polar bears, volunteers interested in protecting wildlife should consider Canada as their next stop.
Book Maid of the Mist Canada tickets for a bit of me-time!
19. Puerto Rico
Bursting with culture and character, this stunningly unique melting pot in the heart of the Caribbean offers the chance to assist with the continued fallout of Hurricane Maria in 2017.
Enjoy a catamaran cruise after
20. Croatia
This spectacular coastal country - a jewel in the Mediterranean crown - has fast become a favorite for European travel. You can help with marine conservation, youth support, special needs and animal welfare as part of a volunteer program.
21. Romania
Despite its natural beauty, Romania has a dark past regarding the mistreatment of children in orphanages. And while significant progress has been made, there's still a long way to go, which is where you come in!
Various programs here invite you to live on-site, teach English and organize activities for neglected children.
22. Lisbon, Portugal
From environmental scuba diving to helping the homeless, there are many high-impact projects you can get stuck into in one of Europe's most vibrant cities.
Book one of the best Tuk Tuk tours in Lisbon
23. Barcelona, Spain
Volunteer placements in the heart of this historic, cosmopolitan city - backdropped by world-famous art and architecture - include marine conservation, youth support and special needs.
Book a private transfer from Barcelona airport to Cruise Port
24. Jordan
Arts and music, special needs, women's education and a unique Ramadan project are all areas which you can get stuck into in this beautiful country in the heart of the Middle East.
25. Israel
Volunteer with a difference here as you join archaeological sites across the country and dig into the past, helping solidify its status as a historical treasure trove.
Read more: Israel: What Are The Best Things To Do There As A Group?
26. Nepal
Bursting with color and culture, experience Nepal like no other, thanks to various projects to match the country's diversity, each helping to change its status as one of the least developed nations in Asia. There are many ways you can help rebuild the country, from earthquake recovery efforts to helping construct classrooms in local villages.
Considered one of the safest places for solo travelers, there's plenty to see and do here in between your volunteering.
Take the Kathmandu to Lumbini tourist bus
27. India
As a volunteer in India, you'll build real connections with local communities by providing support.
Kerala, a hidden gem in Asia, can be found in the coastal city of Kochi. There are many volunteer projects available for visitors to get involved in. From helping communities access clean water and basic hygiene amenities to proper housing; environmental conservation to female empowerment, India's got it all.
Medical and dental volunteers are also always welcomed to assist in hospitals and clinics and help spread awareness of various infectious diseases.
Unwind on a sunset cruise in Kochi
28. Bali, Indonesia
This small, gem-like island has been attracting tourists for years, primarily for its beautiful beaches, laid-back lifestyle and spiritual prowess. But more and more people are being drawn to the volunteering opportunities here, too, particularly those which teach English to children to catch up with the growing tourism industry.
29. Vietnam
Make a lasting contribution to the Vietnamese community while enjoying its culture and cuisine at the same time!
Volunteers are highly valued and welcomed by the local community, whether you want to teach English or provide medical aid.
30. Thailand
You may think Thailand's only good for its stunning islands and beaches - and you would, in part, be right - just have a read of what makes it so great here!
However, there's much more to this southeast Asian wonder than a bit of sun, sea and sand. Indeed, there are many projects for you to get stuck into, from teaching children in rural areas to helping rehabilitate elephants against the oft-unethical tourism business.
31. Australia
Climate change and pollution continually threaten the Great Barrier Reef, which harms many of its species. Volunteering here can restore and protect their natural habitat and help contribute to invaluable marine research.
32. Greece
Tens of thousands of refugees remain in Greece, despite the infrastructure of the Mediterranean nation being unable to absorb them adequately. Volunteering here can make all the difference to this crisis - both to the refugees themselves and the country.
Happy helping!