best things to do in new orleans
Our Top US Cities: Part 5 - New Orleans
Jazz, bourbon and Mardi Gras: It's not hard to see why the Big Easy is one of the top US cities to visit! Your 'what to do in New Orleans' checklist starts right here: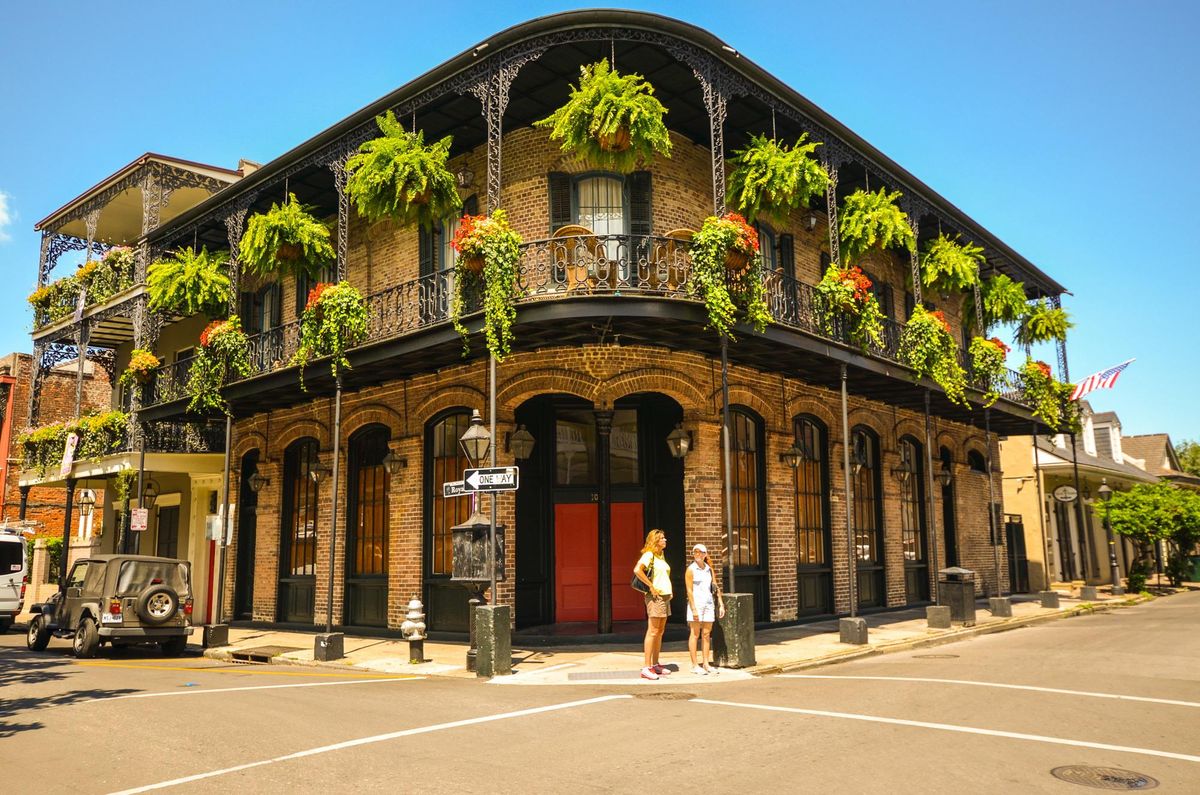 Image by USA-Reiseblogger from Pixabay
Jazz, bourbon and Mardi Gras: It's not hard to see why the Big Easy is one of the top US cities to visit! Your 'what to do in New Orleans' checklist starts right here:
Say 'oui' to The French Quarter
The French Quarter is one of the most popular tourist destinations in New Orleans, thanks to its charming wrought-iron balconies, red-tiled roofs, and courtyards. The area was colonized by French architects in the 17th century and their influence is still evident today. But this - the oldest neighborhood in the city - is so much more than just its impressive architecture, boasting endless shops, galleries, restaurants and entertainment venues. Some not-to-be-missed features include:
Jackson Square. Situated just off the waterfront, buskers, musicians and artists do what they do best in this beating heart of the neighborhood. Jackson Square, a National Historic Landmark, is filled with, er, history, seen prominently in the central 1856 statue of General Andrew Jackson (the 7th US president), St. Louis Cathedral (the oldest Catholic Cathedral in constant use in the whole country - built in 1794!) and two museums. You can also take a stroll along the Moon Walk promenade, marveling at the beauty of the Mississippi River. We stan.

Royal Street. Art enthusiasts, unite! Herein lies some of the most spectacular galleries and antique shops in the city. But the incredible mix of history, fine dining and unique shopping opportunities make it the perfect spot for just about anyone who enjoys a leisurely peruse along an upscale street.
Frenchmen Street. The birthplace of jazz, it should come as no surprise that almost any experience you have in the city will be soundtracked to some smooth music, but this is no more prominent than on the colorful and bohemian Frenchmen Street. You'll be spoilt for choice in terms of the live music on offer in almost every restaurant and bar. Come a bit earlier and check out the Frenchmen Art Market, too - exactly as glorious as it sounds. By far one of the best things to do in New Orleans - any day of the week. Read more: Jazz Near Me! The 11 Most Soulful Places In The World

Bourbon Street. The street comes alive once the sun goes down, bursting with bars that serve signature New Orleans drinks along its 13 blocks. Unlucky for some - not for these guys!
2. Party on Mardi Gras
The world-famous signature event of New Orleans, celebrations last for two weeks leading up to Shrove Tuesday/ Ash Wednesday and include every type of entertainment and festivity you can probably imagine (and those you can't!). Buskers and marching bands provide the music and strings of beaded necklaces and colorful coins are thrown from extravagantly decorated parade floats while revelers (that's you) get jolly with rum-laced cocktails from the sidelines. What's not to love?
Not planning to be in New Orleans for Mardi Gras? Worry not! You can go behind the scenes throughout the year at Mardi Gras World to see the studio behind the floats hard at work, as well as some of the costumes, props and everything else that goes into the spectacle.
3. Step back in time with the National WWII Museum
An incredible museum filled with stimulating exhibits and short documentary-style footage of the war, emphasizing the American experience. Each visitor is - cleverly and effectively - given the profile of someone who fought in the war, and you can follow their specific progression throughout the museum at various stations. The 4D Beyond All Boundaries experience is another highlight, produced and narrated by Tom Hanks.
4. Explore the parks
One of the best things to do in New Orleans is visiting its beautiful parks, each offering something different:
City Park. There are endless activities and attractions on the 1,300+ acres here - home to some of the world's largest collection of live oak trees - including the beautiful walking areas, 18-hole golf course, botanical gardens, museums and amusement park. Founded in 1853, it is also one of America's oldest parks, and you can get intimate with it through the many bridges, ponds and sculptures peppered throughout.

Barataria Preserve. Forests, swamps and marshes; come here to get up close with some of Louisiana's natural treasures.

Armstrong Park. Honoring the great jazz legend Louis Armstrong, this is the perfect place to relax and unwind.
Crescent Park. A relatively new park, this was transformed from a formerly derelict area of the city in 2014. It consists of lovely green spaces, the Piety Street Bridge and access to the waterfront.
Read more: The Best City Parks Near Me (& Not So Near Me!)
5. Get spooked
New Orleans offers a long history of the supernatural, and you can brave it yourself through any number of different experiences: Ghost tours, fortune-telling, voodoo ceremonies and cemetery tours all await - if you're up to it. Definitely one of the best things to do in New Orleans - if also the scariest!
Book a New Orleans vampire tour
6. Soak up the Garden District
This upscale residential area is filled with breathtaking mansions and extensive, leafy grounds, and you can easily explore it on foot - either alone or as part of a guided tour. This Garden District bike tour is a personal fave for us!
7. Hop on a steamboat
A cruise on the Steamboat Natchez is the perfect way to learn about the city atop the incredible Mississippi River. Like much else in the city, it includes a live jazz band and plenty of delicious food.

See why New Orleans matters for yourself - get planning your getaway today!
Read more about our other top US cities:
Our Top US Cities: Part 1 - Las Vegas
Our Top US Cities: Part 2 - Chicago
Our Top US Cities: Part 3 - Boston
Our Top US Cities: Part 4 - Nashville
Our Top US Cities: Part 6 - Miami