miami heat
Our Top US Cities: Part 6 - Miami
Are you ready for some Miami heat? Find out how it became the most important city in the US --->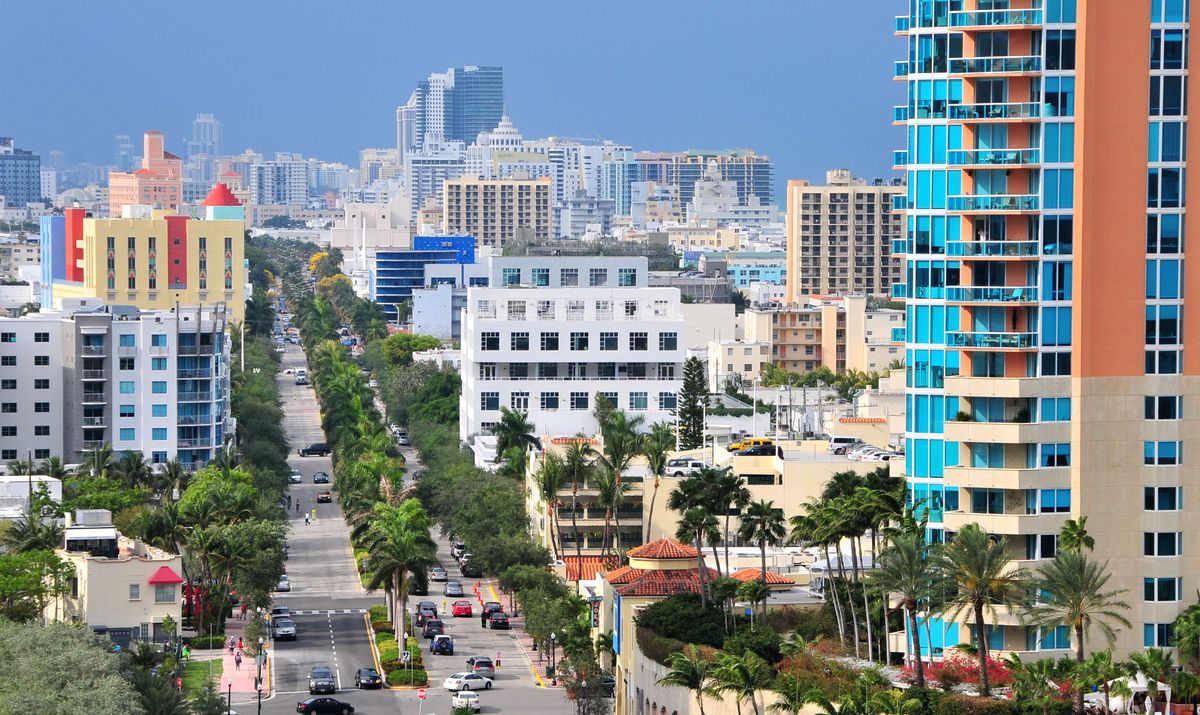 Image: Mike McBey, Flickr
Party in the city where the heat is on, all night on the beach till the break of dawn; Will Smith summed it up just about perfectly, we'd say. But just how did Miami become the most important city in the US? With a heavy sprinkling of the following magic:
Beaches
Well, where else did you expect us to start, really? This is what Miami is famous for! There's no shortage of beautiful beaches in Miami, fl - each one offering something a bit different. When you're just a short drive or flight away from these incredible pieces of paradise, there's really no need to ever go anywhere else! (The Miami weather helps, amiright?)
Miami Beach. More than just sun, sea and sand, this is actually an entire neighborhood - home to many of the best beaches in the city. As well as all the normal things you'd expect from such a vibrant place, such as quirky cafés, electric nightlife and opulent roads, it's also the perfect place to just chill. Walk along the Miami Beach Boardwalk - faithfully staying close to the coast for its entire three miles - for some of the best views of the city. Up the ante with this booze cruise Miami

South Beach. This wide stretch of sea and sand in what is an action-packed neighborhood along Ocean Drive is what you're probably picturing when you hear 'Miami beaches' - and for good reason! Not only is this one of the most popular beaches in Miami but in the whole of Florida, too! Come here for a spot of sun, sea and surf. Truly iconic. Head to the Hard Rock Café South Beach

Hobie Beach. With free parking, soft sand, gentle waves and open to dogs, this is probably one of the most accessible beaches in the whole city.

Haulover Beach. Loved for its soft sand, incredibly blue waters and plenty of outdoor activities, this idyllic stretch is far less crowded than South Beach but no less impressive.
2. Districts
Art Deco District. Dominating Miami Beach - the trendy South Beach neighborhood, in particular - this unique architectural style features pastel colors, funky neon signs, a heady mix of modern, Neoclassical and retro styles and plenty of character! The official Art Deco Historic District includes over 800 buildings and art installations built between 1923-1943. A walking tour is a perfect way to see it all.

Little Havana. Welcome to the Cuban district of Miami - a distinctive cultural hub like nowhere else. With restaurants and street vendors lining the streets, murals depicting important Cuban figures on the walls of buildings and Latin music floating through the air, it boasts an explosion of color and an electric atmosphere. Meander down the streets and peruse the traditional cigar shops and art galleries before tucking into some seriously good Cuban food. Book a Little Havana Food & Cultural Tour

Design District. High-end shopping, five-star dining, art galleries and antique dealers await in this pukka neighborhood.

Wynwood Walls.  A warehouse district might not sound all that exciting, but then you haven't factored in the incredible street art that now lives on the formerly dull walls. Since 2009, it's attracted big names from 16 countries, with more than 80,000 square feet of wall space now covered. The result? A unique outdoor gallery like nowhere else. Did someone say Insta-ready?
3. Vizcaya Museum and Gardens
A National Historic Landmark, this was the winter home of 20th-century industrialist and conservationist James Deering, who set up this estate to conserve tropical and mangrove environments. Built in 1916, it took more than 1,100, mostly European workers, to complete.
The Italian Renaissance-style mansion is set on 28 acres and includes 34 rooms set around a central courtyard. Inside is filled with more than 2,500 pieces of European furniture from the 15th to 19th centuries, while the gardens and grounds feature beautiful pools, fountains and sculptures, as well as 2,000 orchids and other beautifully manicured flower beds.
4. Parks
Miami boasts several impressive parks - perfect for when you want to soak up some fun in the sun but not necessarily the sand that comes with it!
Everglades National Park. Ah, the Everglades - one of America's most unique ecosystems. Spanning roughly 1.5 million acres, the Everglades is home to crocodiles, alligators, snakes and birds. While there is a multitude of walking trails, one of the best ways to truly experience the park is on one of the airboat tours, which takes you speeding through the marshes and streams to (hopefully!) spot an alligator or two. Live shows and programs add even more to the experience. It doesn't get more iconic than this - seriously.

Bayfront Park. What do you get when you add 32-acres of green space with interesting features? This little gem in the center of Downtown Miami was actually the first public gathering space in the city. Popular highlights include the electronically controlled fountain, the Light Tower (an amphitheater used for musical performances and various classes) and a playground.

Lummus Park Beach. Come to the heart of South Beach for this well-loved urban park - one you may well have seen in countless movies, TV shows and music videos.

Crandon Park. Another stunning beach park boasting an offshore reef (perfect for swimming), a Family Amusement Center, a Nature Center, sports activities and plenty of parking.

Bill Baggs Cape Florida State Park. A perfectly preserved wilderness giving some of the most breathtaking views over the Atlantic Ocean. Hit the beach, go for a spot of fishing, check out the Cape Florida Lighthouse (built in 1825!), walk through mangroves, indulge in some water sports or go bird watching; the world is truly your oyster here.

South Pointe Park. Lined by palm trees, this 17-acre recreational space is just what the doctor ordered. As well as offering a host of activities, such as jogging, biking, fishing and skateboarding, there's also beach access, a playground and even a dog park, too!
5. Shops
The shopping opportunities in Miami are truly endless - from budget-friendly outlets to massive malls. Try our faves on for size:
Dolphin Mall. Bursting with shops, eateries and a huge on-site movie theater, you can happily spend the whole day here (and then some!). Turn your phone on silent and get lost in the 240+ stores - it's the perfect place for some much-deserved me-time.

Lincoln Road. Running through the center of Miami Beach is this vibrant strip lined by beautiful palm trees, fountains and flowers. Thanks to the street performers, eateries, concert hall, art galleries and cinema complex on offer here, you might be forgiven for questioning its credentials in this section, but then you need only look at the 200+ stores and boutiques nestled comfortably to confidently choose this as your next shopping destination - arguably one of the best in the whole of America.

Bayside Marketplace. Another outdoor-style mall with more than 150 shops, boutiques, bars and restaurants to its name, you'll enjoy some daily live entertainment here, too. Spread along Miami's waterfront and overlooking the docks and boats, the atmosphere alone is worth coming for. Not only is this a huge tourist spot, but it's also popular with the locals, too, and it shouldn't be too hard to see why.

Española Way. Yet another scenic shopping street, this popular palm tree-lined spot has been modeled after Mediterranean villages, and the result is as quaint and charming as you'd expect. Just walking down here is a treat without having to spend a dime, although, of course, the shopping element just enhances this as a must-visit location while in Miami. Expect cobblestone streets, pastel-colored buildings and charming cafés. Yes, please!
6. Zoo Miami
A perfect activity if you've got the kids in tow (or even if you don't!); Zoo Miami is home to more than 3,000 animals, including over 130 endangered species and 1,000+ species of trees and plants. Vitally - and somewhat uniquely - the zoo doesn't use cages.
All this - plus the incredible educational exhibits on offer - have made it a firm favorite since its founding in 1948. Feeding the giraffes is a particular highlight, as is the water-themed play area. Discover Florida's biggest zoo for yourself!


Can you feel the Miami heat yet? We're only just getting started.


Read more about our other top US cities:
Our Top US Cities: Part 1 - Las Vegas
Our Top US Cities: Part 2 - Chicago
Our Top US Cities: Part 3 - Boston
Our Top US Cities: Part 4 - Nashville
Our Top US Cities: Part 5 - New Orleans