key west
Our Top US Cities: Part 7 - Key West
Looking for things to do in Key West? You're in the right place!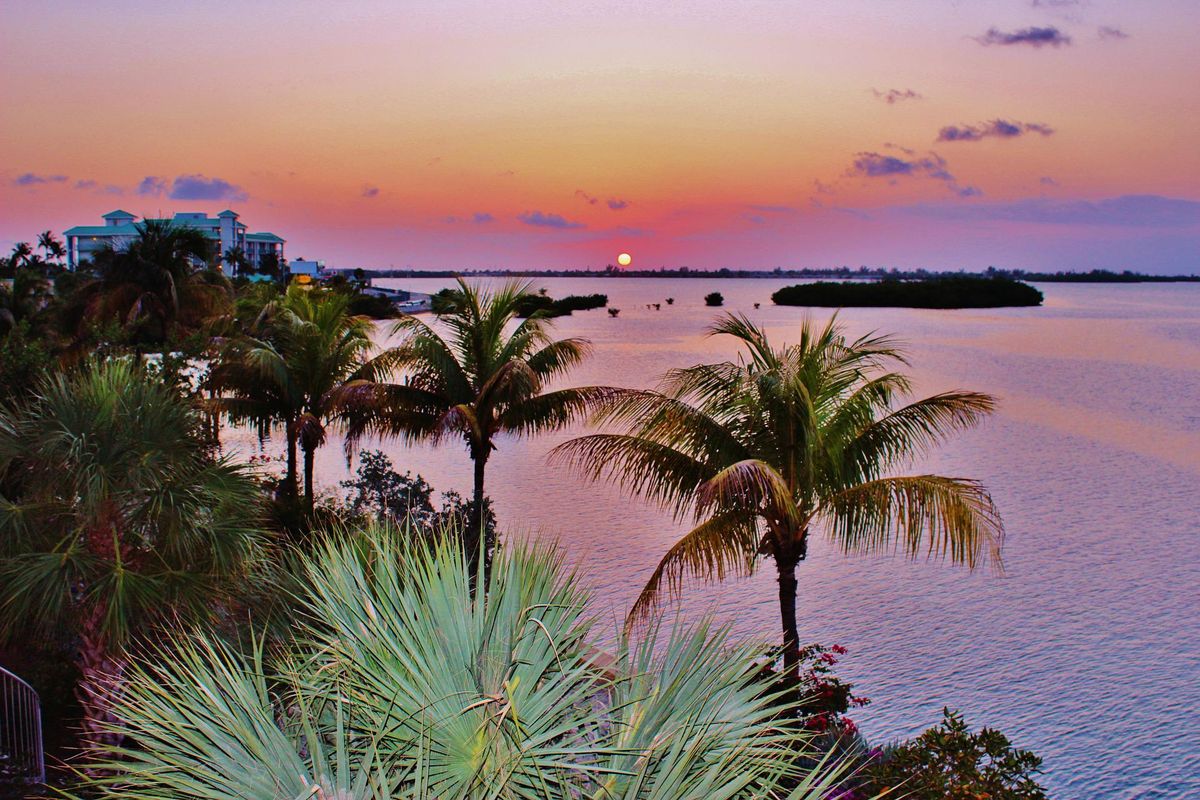 Image by Michelle Raponi from Pixabay

We've reached the end of our Top US Cities series, but boy, are we going out with a bang! Welcome to Key West, Florida.

Duval Street
The main tourist street here is bustling with shops and restaurants designed to lure tourists - and it does so incredibly well. You'll find some of the city's most iconic landmarks and popular attractions here - not to mention the various festivals and events held here throughout the year. A great way to traverse the area and tick the highlights off your list is on a Conch Tour, giving an overview of its history and famous residents, such as the Ernest Hemingway Home.
That's Duval Street by day. Duval Street by night, however, comes alive in a totally different way, thanks to an eclectic mix of bars and clubs that will have you partying into the early hours of the morning.
2. Ocean life
Set along the ocean, the whole of the Florida Keys is something of an aqua lover's haven, and this is no more pronounced than in the waters of Key West and its coral reefs.
Endless water sports and activities, such as diving, snorkeling, kayaking, jet skiing, fishing and glass-bottom boat trips, await, and that's before we mention the incredible Key West Aquarium! This was one of the first open-air aquariums in the US (and the first attraction in the city!), having opened its doors in 1934. Of course, there's also the option to soak up the sunset on board a cruise, glass of bubbly in hand. Life could be worse, hey?
Book a Miami to Key West jet ski adventure!
3. Charming architecture
To truly soak up the vintage vibe of the city, take a wander around the authentically Caribbean Bahama Village or book a Key West hop on hop off trolly. Here, you'll ride through the distinctive pastel-colored homes of the Old Town, typically accompanied by white picket fences and a rocking chair on the front porch, that fuses Victorian, Colonial and Tropical architecture to create its unique style.
4. Sensational sunsets
No matter how you choose to spend your days, there's one thing everyone agrees on when it comes to the night: You absolutely must catch a sunset here. One of the most popular places to do so is Mallory Square, thanks to the daily Sunset Celebration on the waterfront.
This event has been taking place since the 1960s and includes fire-eaters, jugglers, musicians, street vendors and a host of other exceptional street performers (did someone say unicycling cats on a tightrope?!). Treat yourself to a cocktail in a coconut and watch the sun go down in the most perfect way. It's simply a rite of passage while you're here, especially as you can spend hours just mooching around shops and eateries beforehand.
You can also experience the famous Key West sunset on board a sunset sail Tiki Boat for a bit more privacy.
5. America's most southernmost point
Key West can hold the claim to fame for many things, but perhaps no more unique is its position as America's most southern point. So, head down to the corner of South and Whitehead streets - marked by a red, back and yellow marker - and take a selfie for the 'gram before enjoying all the live entertainment and souvenir sales in this top US city.
6. Dry Tortugas National Park
Another great thing about this top US city is its proximity to Dry Tortugas National Park - an archipelago of seven islands surrounded by impossibly blue waters and turtles and other marine life - which you can visit on board a catamaran. The park offers both great snorkeling opportunities and fascinating historical sites.
7. Shipwreck museums
Quite unbelievably, Key West is home to not one but two museums dedicated to shipwrecks in the area:
Mel Fisher Maritime Museum. This incredible museum is dedicated to diver Mel Fisher who discovered several shipwrecks, including one slave ship that disappeared in 1700, filled with invaluable artifacts, and another that contained an unbelievable amount of treasure said to be worth around a cool $200 million.
The Shipwreck Treasure Museum. Housed in the replica of a 19th-century warehouse, the exhibits explore the remarkable history of salvaging cargo from the ships that disappeared along the Florida reefs. It was a lucrative - but dangerous - industry in which wreckers would watch 24/7 from the top of observation towers for ships in trouble before racing to the site to claim the goods as their own (as well as save some of the lives of the passengers on board.).
Immerse yourself in this historical chapter - one which made Key West the wealthiest city per capita in the US - as actors in period costumes take you back in time, artifacts are exhibited and films play.
You can also explore 500 years of Key West's history at the great Sails to Rails museum.
8. Harry S. Truman Little White House
Built in 1890 and serving as the headquarters for naval command through World War II, President Harry S Truman first visited the house in 1946 and used it as a vacation spot several times throughout his presidency because he loved Key West so much!
Today, Florida's only presidential museum retains its original decor and furnishings, including Truman's work desk and piano, as well as some beautiful botanical gardens, which you are welcome to tour. President Eisenhower, President John F. Kennedy and British Prime Minister Harold MacMillan visited at one point, too.
9. Ghosts and graveyards
More than 35,000 people have been buried in Key West Cemetery since its founding in 1847. It has dedicated areas for Jews, Roman Catholics, the Cuban martyrs who were killed in the 1870s independence movement and the sailors who died when the USS Maine sank in 1898.
Meanwhile, 294 African men, women and children who died due to the slave trade in 1860 are buried in the African Cemetery.
Book a Ghosts and Graveyards Tour Key West
10. Beaches
There's a beach for every occasion in this city. Higgs Beach is a must-visit with kids, thanks to the water sports and playground on offer; Smathers Beach is great for swimming, sunbathing and windsurfing, Simonton Beach for sunsets and Dog Beach for … cats (just joking).
11. Food
Conch fritters and key lime pie - need we say any more?
12. Weather
Boasting year-round sunshine and temperatures to match, making this top US city your next vacation spot is always a good idea - no matter when you come.
13. Friendly locals
It's not just the Key West weather that's warm here but the locals, who make up an eclectic mix of passionate and talented residents wanting a slower-paced life.
One thing's for sure: You certainly won't be short of things to do in Key West!
Read more about our other top US cities:
Our Top US Cities: Part 1 - Las Vegas
Our Top US Cities: Part 2 - Chicago
Our Top US Cities: Part 3 - Boston
Our Top US Cities: Part 4 - Nashville
Our Top US Cities: Part 5 - New Orleans