great white sharks
Sharks Near Me! The 18 Best Travel Destinations
Take a deep dive for the most jaw-dropping, great white experiences with these iconic marine mammals!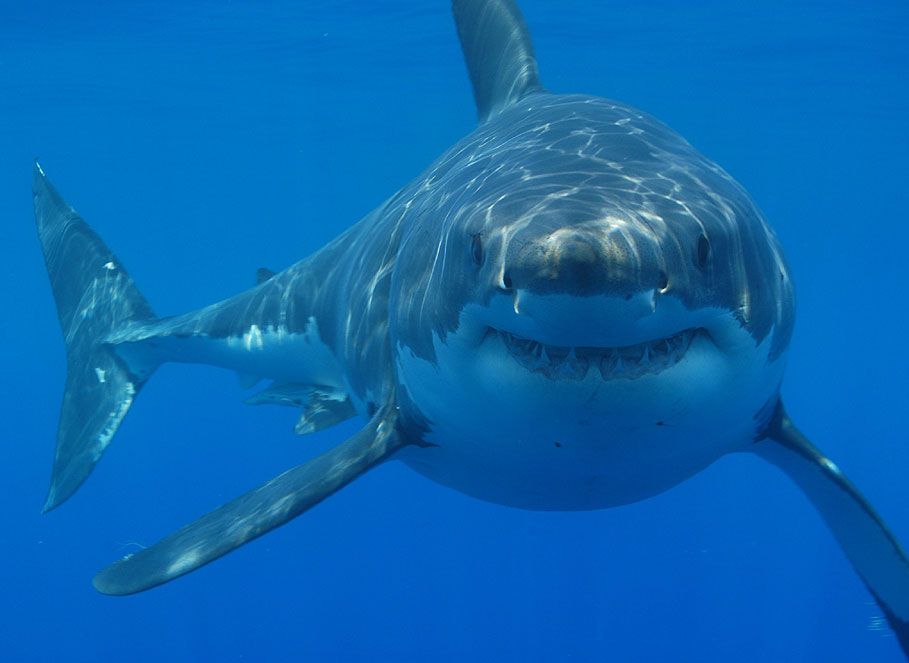 Image: Hermanus Backpacker, Wikimedia
Happy Shark Week 2022! If you thought we'd fin-ished delivering the best travel-related content on the internet, you'd better take a deep dive into our latest, jaw-dropping article in which we point you to the best places globally to get up-close and per-sea-nal with these iconic marine mammals.
We promise you'll have a killer whale of a time. (Wrong place for that one. Sorry.)
Costa Rica
It's no secret that Costa Rica has a lot to offer, with lush national parks such as Manuel Antonio boasting rainforests, beaches, volcanoes and abundant animal life. Yet over 300 miles from the mainland lies Cocos Island, AKA 'Mountain of the sharks', which is consistently ranked one of the best spots for hammerhead shark diving - in particular, Bajo Alcyone. Tiger, Galapagos, bull, nurse, thresher, whale, silvertip, whitetip and silky sharks can also be found here - phew!
What's more, in between dives, you'll have plenty of time to hike and swim among the jungle waterfalls of this UNESCO World Heritage piece of pristine beauty.
The best time to visit is between December to May for ideal water conditions or June to November for the best marine life, where you'll see anywhere from 50 to 200 hammerheads!
A world-class experience.
Book a 12-day Naturally Costa Rica program
2. Portugal
The Azores is one of Europe's best-kept secrets - especially if an encounter with sharks is top of your bucket list.
Come for the blue sharks but stay for makos, hammerheads, dolphins and whales.
Staying for a while? Hop on a yellow bus Porto Portugal!
3. The Philippines
With over seven thousand islands, it may not come as much surprise to learn that there are countless shark dives around the Philippines, showcasing everything from whale and reef sharks to zebra sharks. Malapascua, in particular, is the only place in the world to deliver daily thresher sightings, while Palau, a vibrant smattering of tiny islands off the coast of the Philippines, boasts over 135 species, including grey reef, white reef and leopard.
4. Maldives
Home to tigers, threshers, hammerheads, silvertips, whales, grey tips, white tips and silky sharks.
5. Ecuador
The otherworldly beauty of the Galapagos Islands is home to over 400 species of marine life - 17% of which are unique to the area. Included are the schools of hammerhead sharks (as well as Galapagos, scalloped, silky, whale, grey reef, whitetip and blacktips!) where experienced divers can get pretty close, backdropped by stunning landscapes and unique wildlife. Punta Carrion on Santa Cruz is a favorite spot for beginners, thanks to the relatively easy conditions.
January through June offers high temperatures, the best chance to see hammerhead sharks and clear underwater visibility, while late June to mid-December is when you should brave the cooler waters if you want whale shark encounters.
6. Bahamas
Tiger Beach. Boasting over 40 species, this is known as one of the world's best shark diving destinations, and you can expect to share the experience with reefs, hammerheads, whitetips, bulls, lemons, nurses, Caribbean reefs and silky sharks. As its name suggests, it's obviously unbeatable for guaranteed encounters with tiger sharks and - thanks to the crystal-clear and calm waters - is probably what the Bahamas is most famous for. Don't forget your underwater camera!
Bimini coast. Offering an almost 100% success rate of encountering hammerheads.
November to May is the optimum time to go shark diving here.
While you're here, go on a Nassau walking tour
7. USA
Rhode Island. Best for diving with blue and mako sharks - one of the fastest sea animals. Come in the summer for the chance to cave dive, free dive or snorkel.
San Diego. Catch the lightning-fast makos here - often spotted with blue sharks - for a two-for-the-price-of-one experience - sans cage!
The cliffs of La Jolla Cove, in particular, are a must-visit, providing a flourish of young sharks. Threshers, leopards, hammerheads and even seven gills can all be found here, too. Explore La Jolla sea caves
Jupiter. You may well feel as if you're transcending the limits of Earth in this Florida town, especially if you come during winter for the annual migration of lemon sharks (named for their yellow-tinged skin), where you'll see anything from eight to 60 on any given dive. Year-round encounters make this a top spot for shark lovers. Book a safari Florida Orlando adventure
Alaska. One of the only places to see salmon sharks in the world, these great white lookalikes congregate in Prince William Sound to feast on salmon - hence the name! They're only around for a short time during the Alaskan summer, though, so this is the time to go!
Hawaii. You can swim with sharks in Oahu or choose from an abundance of dramatically beautiful locations in Maui.
8. Malaysia
Layang Layang is one of the most incredible dive sites in the world, especially between March to May, where you'll see large schools of hammerhead sharks.
9. Seychelles
Some of the first whale shark records come from the Seychelles, where they are still well-protected today. Mahé - the largest island in the Indian Ocean - is the best place to see them.
10. Mexico
Isla Guadalupe. Unarguably the best place in the world to go cage diving with great white sharks (there are said to be up to 150 that live around here!). The warm, clear waters of this volcanic island are fast becoming a favorite. The ultimate adrenaline-junkie adventure - and it's just a one-day boat ride away from San Diego!
Socorro. Along with the Galapagos Islands and Cocos Island, Socorro makes up the Pacific Shark Corridor, which is also known as 'The Hammerhead Triangle.' Teeming with hammerheads, along with Galapagos, tigers, silvertips, whales and silky sharks, this should definitely be on your scuba diving bucket list.
Cabo San Lucas. Yet another top shark diving destination, here you'll find some of the highest concentrations of blue and makos, as well as hammerheads and silky sharks. Book a Cabo San Lucas camel ride
Playa del Carmen. November through March is the season for bull sharks here, and morning is the best time to go for a dive if you want to encounter up to 20 at once.
Isla Mujeres. Beautiful white beaches, crystal-clear waters and lots of whale sharks to swim with! July and August is the peak time for this experience, heralded by a Whale Shark Festival to celebrate the arrival of these majestic creatures!
This popular tourist spot off the coast of Cancun offers a plethora of things to do - both on land and at sea. Book a pirate ship Cancun
Read more about Mr. Sanchos In Cozumel Mexico
11. Fiji
Welcome to Pacific Harbour - one of the best shark dives in the world - where you can expect up to 50 sharks to show up on any given day. Bull sharks are the main attraction, but you'll also see nurses, lemons, whitetips, silvertips and possibly even tiger sharks! Clear and warm, inviting waters make this beautiful spot second-to-none.
12. Belize
Placencia is known for some of the gentlest shark encounters on the planet with the gentle giant nurse sharks, while the breathtaking Blue Hole offers a serious dive into the cave with the resident bull sharks. Explore things to do in Ambergris Caye
Read More: The Best Destinations For 2022: Belize
13. French Polynesia
Diving in the French Polynesia is a truly unforgettable experience, thanks to the incredible diversity of both sharks (silvertips, blacktips, whitetips, hammerheads, lemons, tigers, silky and grey reefs) and other exploratory wonders under the sea, such as WWII wrecks.). Plan to come between March and November for the best experience.
14. Colombia
Voyage to Punta Gallinas for some of the most reliable shark encounters in the world.
15. South Africa
South Africa is home to around a quarter of all shark species in the world! As such, there are countless ways to get intimate with these incredible creatures here:
False Bay. One of the only places in the world to go diving with rarely-seen cow sharks (AKA sevengill sharks) - some of the most primitive alive today.
Cape Town. Cape Town has plenty to offer in terms of an unbeatable vacation. Go cage diving with the great whites in Simon's Town or experience an open water encounter with blue sharks.
Gansbaai. Not far from Cape Town lies this small town offering cage dives. Known as the Great White Capital of the World, this promises an underwater safari that you'll never forget.
Mossel Bay. Thanks to a higher-than-average water temperature, Mossel Bay is known globally for the biggest residency of great white sharks along the South African coast.
16. Australia
The place where cage shark diving originated, you'd be hard-pressed to find a better place to experience it!
The Great Barrier Reef. World-renowned, head here for a truly unforgettable encounter with grey reefs, silvertips, and so much more! June to August is prime season.
Ningaloo. Located some 1,2000km from Perth, this 300km-long UNESCO World Heritage Site is home to over 500 species of fish and famed for its diving opportunities with great white sharks.
17. United Kingdom
Cornwall. One of the best (if coldest!) places to see the beautiful blue sharks as they hang out together in large groups for hours around dive boats.
Scotland. The basking shark is one of the most unusual - and second largest fish - in the sea and can be found in the clear blue waters of the Hebrides.
18. Egypt
Swim with whitetips, reefs, hammerheads and even the occasional thresher at either Elphinstone or the Brothers reef near Marsa Alam.
Read more: The Best Travel Destinations For 2022: Egypt
So, which destination on the list will you attack first?
Read more 'Near Me' Guides:

Holistic Therapy Near Me! (Or Not So Near Me)
Donuts Near Me! The 28 Best Places To Go
Jazz Near Me! The 11 Most Soulful Places In The World
The Best City Parks Near Me! (& Not So Near Me)
Pie Near Me! The Best The World Has To Offer
Candy Near Me! The 8 Sweetest Places To Go In The World
The World's Best Hikes Near Me (And Not So Near Me)
Best Coffee Near Me! 12 Global Experiences For The Caffeine Lover